Smallholder Livestock Rearing and Common Lands
by ruchita —
last modified

Jan 15, 2014 11:28 AM
A large majority of the farming community in India comprises small and marginal farmers, who own close to 70% of the livestock. With limited land holdings, these farmers have traditionally relied on common lands and other common resources for meeting a significant portion of the fodder (and water) requirements for their livestock.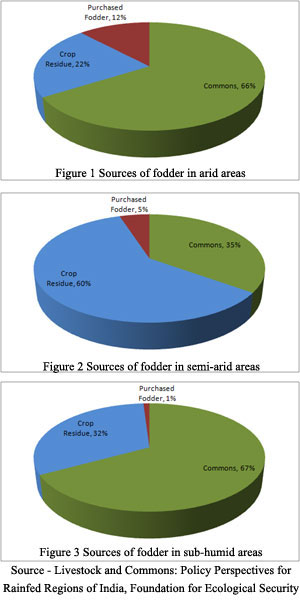 Common property resources are defined as resources accessible to the whole community of a village and to which no individual has exclusive property rights. In the dry regions of India, these include village pastures, community forests, wastelands, common threshing grounds, waste dumping places, watershed drainages, village ponds, tanks, rivers/ rivulets and river beds
1
.
A study undertaken by the Foundation for Ecological Security (A Commons Story: In the Shadow of the Green Revolution, December, 2010) detailed the importance of common lands to meet fodder requirements across different agro-ecological zones of the country. In semi-arid regions, common lands provide 35% of the fodder requirement. The significance of commons in meeting fodder needs increases in the sub-humid regions where close to 67% of the fodder requirements are met from common lands  (refer diagrams).
Common lands are therefore a critical livelihood resource for landless, small and marginal farmers and there is a priority need to protect and invest in both improving the quality of these lands as also enable community management and governance of these lands. These proposed initiatives are a priority, both from a livelihoods perspective as also on account of ecological considerations. 
SA PPLPP's
documentation of CPRs and the livestock-livelihoods interface
explores the dynamics of project interventions in terms of four major outcomes – impact on livelihoods, resilience and sustainability of community institutions and norms for the governance of commons, access to and use of CPRs by livestock rearing communities, and biophysical changes over time in CPRs. The documented practices highlight the benefits of common land development for grazing based livestock production systems (and for the larger rural production system) and detail approaches which can help communities successfully claim, regenerate, sustainably use and manage their common lands.  
A key learning from the documented interventions, primarily from the rain-fed regions of the country, is the  importance of common lands for smallholder livestock rearing, and in particular for livestock rearers with limited or no land. Many of these interventions have also focused on the establishment of community institutions to govern and manage common lands, and present useful lessons to facilitate the replication of these initiatives. Another key learning is that where community institutions for natural resource management exist, communities perceive their access to common lands to have improved over time2. 
In 2012, SA PPLPP also supported the Foundation for Ecological Security (FES) for the organization of three workshops in Rajasthan as a part of the FES led Commons Campaign in the state. These workshops focused on the sharing of information on the key provisions of the draft Common Land Policy (2010) developed by FES in partnership with the state government. In addition, a policy paper "
Livestock and Commons: Policy Perspectives for Rainfed Regions of India
" was also developed by FES.
The policy paper records the contribution of commons to the total fodder requirement of different livestock species across eco-regions (refer Table 1). The data clearly indicates that even in their present condition, CPRs continue to meet a large portion of the fodder requirement for livestock (more than 50% of the fodder requirement for small ruminants). During the monsoon (July-October), CPRs are a critical resource with all livestock species deriving more than 40% of their fodder requirement from the commons. Even during winter (November-February), the dependence of livestock on the commons does not decrease much. In summer, which is the lean grazing period, CPRs provide half of the grazing and fodder needs for small ruminants. 

The importance of commons in sustaining and strengthening both agriculture and livestock production systems is reflected in the Approach Paper to the Twelfth Five Year Plan and a set of measures have been outlined in the Approach Paper for revitalizing the commons and strengthening production systems in the rain-fed areas3: 
Formulating a 'Commons Policy' with emphasis on security of tenure to the user community.
Initiating a community-led process of recording claims, verification and consolidation of community rights on common lands and to get such rights recorded in Record of Rights at Gram Panchayat Level.
Devolving management and use rights of commons to village/ habitation institutions as part of the decentralization process.
Stepping up public investments (to the extent of Rs.20,000 per hectare) for revitalizing common land and water resources; a large proportion of these investments can be met through convergence with MGNREGA.
Developing a programme architecture at district and at sub-district level aligning interventions on CPRs within the larger natural resource management programmes.
Constituting an over-arching planning and regulating authority at the district level where sectoral plans on agriculture, water, forests, industry and infrastructure are nested; and creating a robust database on common land and water resources as a decision-support to sustainable use of CPRs.
References:
NS Jodha, Common Property Resources and Rural Poor in Dry Regions of India, Economic and Political Weekly, Vol. 21 No. 27 (July 5, 1986), pp. 1169-81.

Foundation for Ecological Security (2010, Issue No. 2). Pastoral and Grazing Rights in Law: The Journey for Legitimacy. Common Voices.

Approach Paper to the 12th Five Year Plan (Planning Commission, Government of India), Chapter 7 (Farm Sector)