FAO and OIE International Conference for the Control and Eradication of Peste des Petits Ruminants (PPR) 31 March - 02 April 2015 (Abidjan, Cote D'Ivoire)
by ruchita —
last modified

Mar 18, 2015 04:57 PM
Mar 18, 2015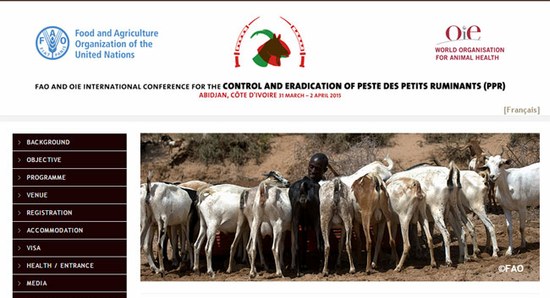 Peste des petits ruminants (PPR) is a widespread, virulent, and devastating disease of small ruminants with significant economic, food security and livelihood impacts. The disease is caused by a morbillivirus closely related to the rinderpest virus (globally eradicated in 2011). PPR is considered as one of the top most damaging animal diseases in Africa, the Middle East and Asia. PPR is also one of the priority diseases indicated in the FAO-OIE Global Framework for the Progressive Control of Transboundary Animal Diseases (GF-TADs) Global level 5 Year Action Plan (1) (2013-2017).
The eradication of PPR will have a major positive impact, not only on the livelihoods of poor farmers, but also on the Post-2015 Development Goals and the UN's Zero Hunger Challenge. It will also highlight the role played by the veterinary profession in poverty alleviation and food security.
Visit the Conference Website for more information.