Mitigating Diseases and Saving Valuable Assets - Poultry Vaccinators Delivering Services to the Doorstep of the Poorest in Bangladesh
by ruchita —
last modified

Jan 27, 2014 01:23 PM
Mar 20, 2010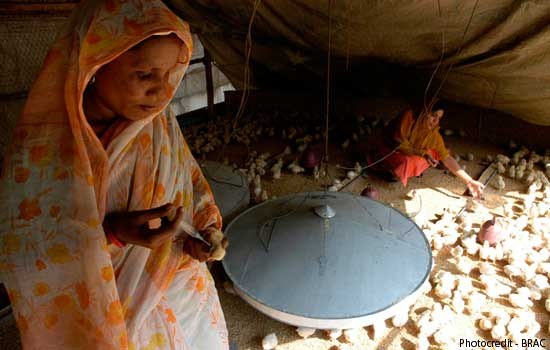 This Good Practice note highlights how an innovative government – civil society collaborative initiative succeeded in developing a sustainable livestock health delivery system in each district of Bangladesh. A cadre of over 19,000 women poultry vaccinators was trained to provide preventive vaccination and health services at the doorstep of poultry rearers, leading to a significant reduction in poultry mortality. In addition to increasing poultry numbers and incomes of poultry rearers, this initiative has also provided a viable employment option for thousands of vulnerable women who are today not only competent vaccinators, respected and appreciated in their communities, but also poultry extension workers.
The note showcases how through a 20 year old Government-NGO partnership, Bangladesh has transformed its livestock health delivery system from a centralised to a community based de-centralised model that provides vaccination, information and extension services, and disease surveillance to poultry rearers across the country
Authors: M.A. Saleque, Pankaj Kumar Paul, Harun Ur Rashid
To learn more about this Good Practice open/download from the links below.
रोगो का शमन और मूल्यवान संपति की सुरक्षा - बांग्लादेश में गरीब मुर्गी पालको को घर-घर तक सेवाए प्रदान करते हुए पोल्ट्री वैक्सीनेटर
बांग्लादेश में 19,900 पोल्ट्री वैक्सीनेटर आज पोल्ट्री को बीमारियों से सुरक्षा प्रदान करने के लिए रखवालो के रूप में खड़े हैं। 20 वर्ष पुराने सरकार - गैर सरकारी संगठन के सहयोग के माध्यम से, बांग्लादेश केन्द्रीकृत मॉडल को विकेन्द्रित सेवा प्रदान करने के लिए अपने कार्य में बदलाव लाया है। इस बदलाव से टीकाकरण सेवाऐ, प्रचार संदेश और रोग निगरानी  देश के दूरस्थ क्षेत्रों में पोल्ट्री का पालन-पोषण करने वालों तक पहुंचती है। रोग संरक्षण का खर्च सिर्फ एक टका है, लेकिन यह बेहतर आय, पोषण, रोजगार और सशक्तिकरण लाता है। पोल्ट्री वैक्सीनेटर गरीब मुर्गी पालको को सेवाए प्रदान करने के लिए एक नयी प्रवृत्ति ला रहे हैं।
यह लेख इस अभिनव मौडल के विकास और देश के पोल्ट्री परिदृश्य पर इसके प्रभाव को दर्शाता हैं।
लेखक: एम ए सालेक, पंकज कुमार पौल, हारुन उर राशिद
इस गुड प्रैक्टिस पर अधिक जानकारी के लिए नीचे उल्लेख लिंक से डाउनलोड करे।