Reforms in Livestock Service Delivery Systems
by ruchita —
last modified

Jan 23, 2014 12:22 PM
Jan 18, 2009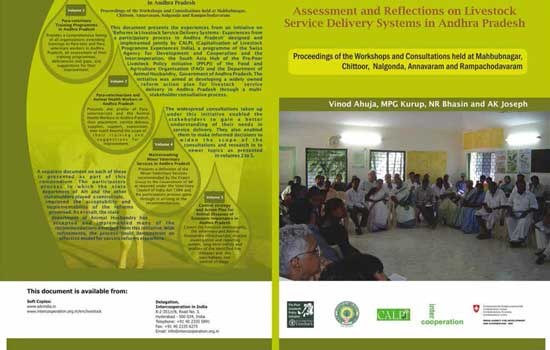 The South Asia Pro-Poor Livestock Policy Programme (SA PPLPP) was launched in July 2007 as the 'successor' of the FAO's Pro-Poor Livestock Policy Initiative (PPLPI) South Asia Hub through a partnership between the National Dairy Development Board of India (NDDB) and FAO. The documents listed below form part of the PPLPI project titled 'Reforms in Livestock Service Delivery Systems".
 A. Assessment and Reflections on Livestock Service Delivery Systems in Andhra Pradesh
Consultations under this initiative enabled stakeholders to gain a better understanding of their needs in service delivery. It also enabled them to make informed decisions to widen the scope of the consultations and research newer topics like para-veterinary training programmes, minor veterinary services etc.

Download 

  1.0 MB
 

B. Para-veterinary Training Programmes in Andhra Pradesh -  Programmes, Curricula and Evaluation
With a view to extend livestock services far and wide, the Andhra Pradesh state promoted the delivery of animal health and breeding services through para-veterinarians and para-vet workers in a big way. This document provides an overview of the initiatives taken up to improve the training and performance ofpara-veterinarians and para-veterinary workers in Andhra Pradesh. The document presents a listing of all organizations providing such training, an assessment of the deficiencies and gaps in their training programmes and suggestions for improvement.
C. Para-veterinarians and Animal Health Workers in Andhra Pradesh - Service Delivery, Supplies, Support and Supervision
This document presents findings from a study of para-veterinary services in Andhra Pradesh. The study was aimed at understanding the deficiencies and gaps in service delivery by para-veterinarians and Animal Health Workers in Andhra Pradesh, their placement, service delivery, supplies, support and supervision, and reach beyond the scope of their training.

Download 

 3.30 MB 


D. Control strategy and Action Plan for Animal Diseases of Economic Importance in Andhra Pradesh
India has many endemic animal diseases causing high mortality and morbidity, resulting in heavy economic losses to the poor. CALPI (Capitalization of Livestock Programme Experiences India), together with the PPLPI of the FAO and the Department of Animal Husbandry of the Government of Andhra Pradesh, took up an initiative to evolve a strategy and an action plan to control five major diseases of high economic importance for the poor. The present document provides information about the livestock demography of Andhra Pradesh, the infrastructure availability of Veterinary and Animal Husbandry services, disease investigation and reporting systems in place, long term trends and profiles of identified diseases, available vaccines and recommended control strategy.

Download 

 2.22 MB