Busra
by ruchita —
last modified

Jan 22, 2014 11:41 AM
Mar 15, 2013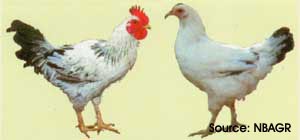 Native Tract
Busra birds are found in the Navapur Taluk of Nandurbar and the Sakri Taluk of Dhule districts of Maharashtra, and the Songadh and Uchchal Taluks of Surat district of Gujarat.
Characteristics
Average Flock Size: 9 birds.
Plumage is mostly white mixed with black feathers on the neck, back, tail, and reddish brown feathers on shoulders and wings.
Comb is red, single, small to medium in size, stands erect.
Beak is yellow and wattles are red, with a yellow shank.
Standard Weight:
-Cocks: 0.85 to 1.25 kgs
-Hens: 0.8 to 1.2 kgs.
Average age at first laying cycle: 5-7 months.
Annual egg production: 40-55.
Hatchability of eggs: 60-85%.
Eggs are small weighing about 28 – 38 gms. The shell colour is primarily light brown.

 
Cultural / Economic Significance
The birds are reared in a free range system for home consumption as well as for sale of live birds and eggs. The bird is preferred as a meat bird, since the egg laying capacity is poor.