Daothigir
by ruchita —
last modified

Jan 22, 2014 12:11 PM
Mar 15, 2013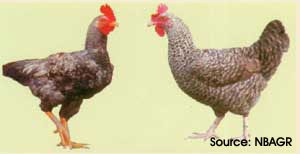 Native Tract
Found in the districts of Kokrajhar, Chirang, Udalguri and Baska in Assam.
Characteristics
Plumage colour is mostly black interspersed with white feathers.
Comb is red, single, erect and large in size.
Average weight
-Cock: 1.79±0.13 kg
-Hen: 1.63±0.13 kg.
Annual egg production: 60 – 70.
Average egg weight: 44.42 gms.
 
Cultural / Economic Significance
These birds are reared by Bodo tribals in Assam under backyard or free-range rearing systems.