Punjab Brown
by ruchita —
last modified

Jan 22, 2014 12:18 PM
Mar 15, 2013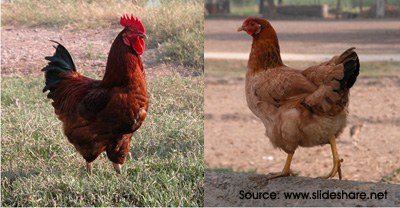 Native Tract
Found in rural areas of Gurdaspur in Punjab and in Ambala and Yamunanagar in Haryana.
Characteristics 
Plumage colour is mostly brown and the pattern is usually solid but is sometimes spotted or striped. Males in particular have black spots/stripes on their neck, wings and tail.
The comb is red, of single type and erect in position.
Average flock size: 9 birds.
Average Weight:
-Cock: 2.15±0.94 kg
-Hen: 1.57±0.04 kg.
Average age at first laying cycle: 5 – 6 months.
Clutch size: 4 - 5.
Annual egg production : 60 - 80.
Average egg weight: 46.0±1.91gms.
Egg shell colour is mostly light brown.
 Cultural / Economic Significance
A multi-purpose breed, yielding good quality meat and eggs. Birds are reared in the backyard system and shelter is provided only at night in the form of small enclosures mostly made up of mud and sometimes of wood.