Tellicherry
by ruchita —
last modified

Jan 22, 2014 12:37 PM
Mar 15, 2013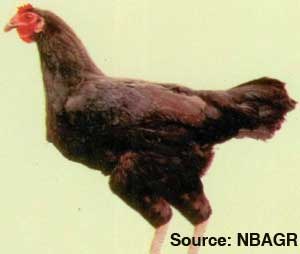 Native Tract
Found mainly in the Calicut district but also in the surrounding areas in Kannur and Malappuram districts of Kerala, and the adjoining Mahe region of Puducherry.
Characteristics
Plumage color is black with a shining bluish tinge on hackle, back and tail feathers.
Comb is red, single and large in size.
Average weight:
-Cock: 1.62 ±0.16 kg
-Hen: 1.24±0.10 kg.
Eggs are tinted.
Annual egg production: 60 – 80.
Average egg weight: 40.02±0.94 gms.