Nali
by ruchita —
last modified

Jul 03, 2014 04:43 PM
May 06, 2013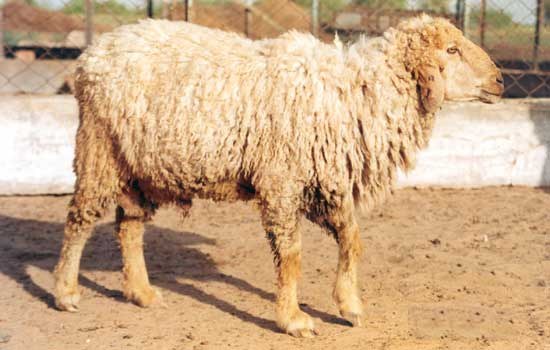 The Nali breed is well adapted to the arid and semi-arid regions of Rajasthan and Haryana. It is also found in large numbers in Uttar Pradesh.
It derives its name from the route of the river Ghaggar flowing through Ganganagar and Hanumangarh district of Rajasthan. Nali sheep are maintained primarily on grazing and on the leaves of fodder trees like Khejri and Babool.
They are medium-sized animals. The face colour is light brown, and the skin colour is pink. Both sexes are polled, their ears are medium and tubular, tail is short to medium and thin, fleece is white, coarse, dense and long-stapled. The forehead, belly and legs are covered with wool. The age at first breeding for ewes is 18 months and for rams it is 12 months; the lambing percentage is 67 and the litter size is mainly single. These animals are not milked. Males not retained for breeding are usually sold between the ages of 6 to 9 months. The annual average fleece weight ranges from 1.5 to 3 kg with an average fibre diameter and density of 35 μ and 1,290 cm2 respectively, and a medullation percentage of 31.  
According to the 18th Livestock Census of 2007, there are 1,143,033 Nali Sheep in the country. (Refer to the maps below) 
| | Adult Male | Adult Female |
| --- | --- | --- |
|  Average Body weight (kg) | 39  | 32  |
|  Average Body length (cm) | 69  | 64  |
|  Average Height at withers (cm) | 69  | 64  |
|  Average Chest girth (cm) | 80  | 76  |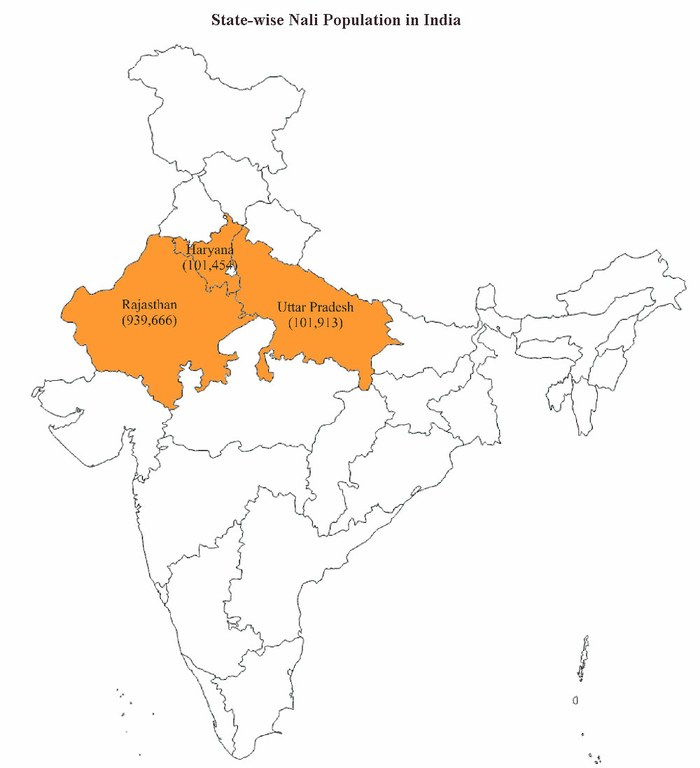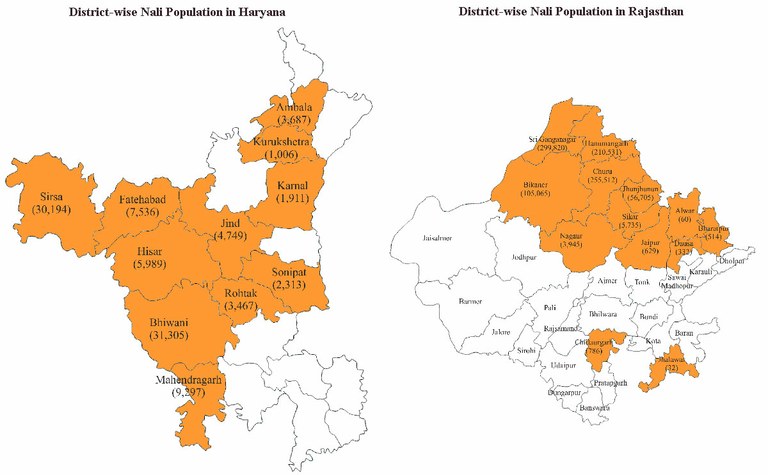 Text Source: NBAGR  
Photo Source: CSWRI, Avikanagar