Revisiting Traditional Knowledge Systems: Livestock an Integral Part of Agriculture
by ruchita —
last modified

Jan 22, 2014 07:58 PM
Nov 16, 2009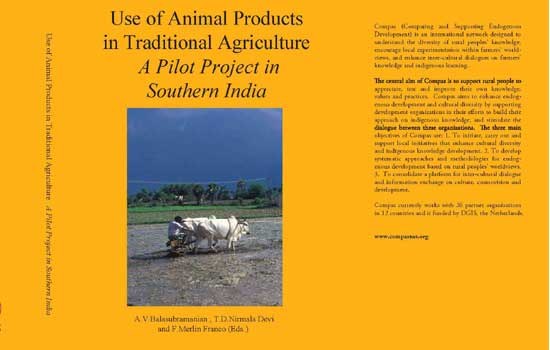 Comparing and Supporting Endogenous Development (COMPAS) together with Centre for Indian Knowledge Systems (CIKS) has published a document titled "Use of Animal Products in Traditional Agriculture – A Pilot Project in Southern India". While communicating the experiences and results of this project to the farmers, community based organizations and academics; this is also an endeavour to stimulate further thinking and research in the area of traditional knowledge.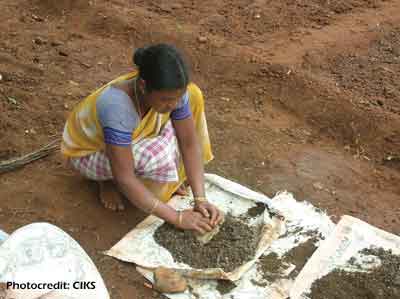 Traditional agriculture has generally been considered everywhere as a joint effort between humans and their livestock. More than in any other part of the world, in India there is a deep link between the farmer and his cattle. This is not merely an act of convenience that the cattle provides the draught power and certain inputs that are important in composting, pest control and crop protection (cattle dung, urine, etc.) but the partnership is much deeper with socio-cultural and spiritual dimensions. In recent years there has been a great deal of interest, experiments and innovations on the use of animal products in traditional agriculture. Most of the practices are cost effective in increasing productivity in an environment friendly way and are most relevant in context to the small and marginal farmers.
In the last decade COMPAS' partners in India have been involved in wide ranging activities in the area of agriculture, traditional healthcare and natural resources management. COMPAS launched a coordinated programme involving four of its partners in Southern India – Centre for Indian Knowledge Systems (CIKS), Foundation for Revitalisation of Local Health Traditions (FRLHT), Integrated Development through Environmental Awareness (IDEA) and Krishi Prayog Parivara (KPP), on the theme of – 'Use of Animal Products in Traditional Agriculture'. The range of activities undertaken for this programme included survey of literature of folk practices as well as classical texts of Vrkshayurveda, field survey, research in the laboratory and parallel field research.
During the literature survey the secondary information collated by CIKS and FRLHT on the practices prevalent in the rural communities was shortlisted and prioritized on the basis of their specificities of the ecosystem; simplicity of the suggested recipe or practice, time frame required for the procedure and ethical considerations such as destructive / non-destructive use of animals and animal parts.
 This was followed by a detailed field survey with the objective to document the use of animal products in traditional agriculture of the tribal and rural communities for assisting the farmers to prioritize and standardize the use for sustainable crop yield. The field survey was conducted in 22 villages of Andhra Pradesh and 3 villages of Orissa. The survey documented the use of various animal products such as dung, urine, bones, fat, blood, droppings, skin and flesh in agriculture. Products were used both as single and mixed and their application methods such as spraying, fumigation, paste, powder etc were also documented.
 Some of the surveyed practices selected for detailed experiments were:
Application of goat droppings in powder/pellet form as broadcasting and pit application helps plant growth in specific seasons. 

Application of cow's urine in the pit around the plants control falling of the leaves and tender fruit.

Experimental study was conducted both in the fields and the laboratory to confirm the successful use of these animal products in improving plant health.
Despite a fixed project period to collate and test such a vast range of information available on the traditional use of animal products, a very good beginning has been made with the laboratory studies. This has initiated the setting up of standard operating procedures for preparation of a variety of products and formulations to carry out procedures. Moreover capacity building of partners and field groups, to design and execute experiments in the field level, has been one of the most important achievements of this project. The project has led to the foundation for a long lasting programme and it is envisaged that the work shall continue even after the end of the formal project period.
The publication "Use of Animal Products in Traditional Agriculture" can be procured on request from the CIKS office by sending an email to info@ciks.org or ciksorg@gmail.com.
 Contributed by - Abarna R from CIKS with editorial inputs from the SA PPLPP Coordination Team