South Asian Countries share a platform in Bangladesh to discuss livestock and livelihood issues
by ruchita —
last modified

Jan 22, 2014 08:13 PM
Jul 07, 2009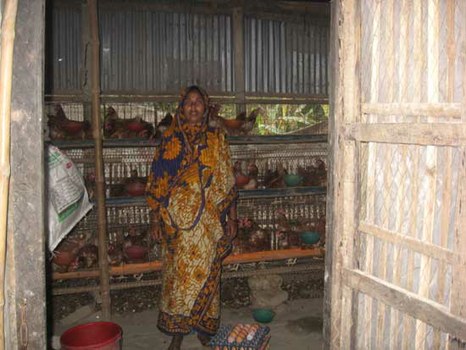 Local service providers meeting the participants in their association office
The "South Asia Regional Workshop on Livestock in Livelihoods  - Ways to Break the Poverty Cycle" was organized by Inter Cooperation (IC) at Bogra, Bangladesh from 22-23 June 2009.
This was the second workshop in the series, with the first one having been held in Hyderabad, India in October 2008. The prime objective of the workshop was to discover approaches in Livestock (beef fattening, poultry and duck rearing); marketing (marketing extension, promotion of Micro Small Enterprises); and service provision through knowledge sharing of participants from various South Asian Countries.
Bangladesh Livestock Research Institute (BLRI) and IC apprised the participants of the beef fattening technology and its economics of being a pro-poor practice. Department of livestock services Bangladesh shared a presentation on the evolution of 'Sonali' poultry bird, laying emphasis on the role of poultry in alleviating poverty in Bangladesh. Discussions also focused on the gaps in delivery of animal health services and the important role played by service providers in reaching out to fe/male farmers rearing poultry in remote areas.
The participants from India shared their experiences in small scale poultry sector. Mr Shankar Ghosh from KeggFarms, Dr H K Deka from Kesla Cooperative Ltd and Dr Mamta Dhawan from South Asia Pro-poor Livestock Policy Programme (SAPPLPP) were among the key participants. Dr Sher Muhammad representing Pakistan shared experiences in the livestock sector where participatory methods are deployed in teaching new technologies to farmers through Farmers Field Schools.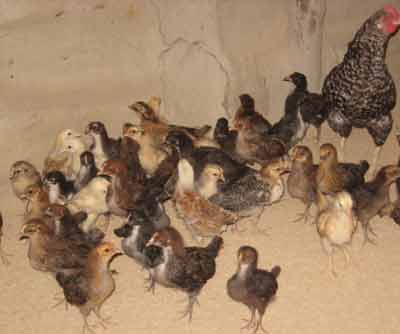 Field visits were organized to Pabna and Joypurhaat to visit farmers and households involved in Beef fattening and 'Sonali' chicken rearing respectively. The participants were introduced to an interesting method of hatching duck eggs, popularly known as "Rice-husk method". In this method the fertile eggs are put in a cloth bag and placed in a wicker / bamboo cylindrical basket and covered with rice husk to keep warm. Position of eggs is changed manually every 6 hours. Just before they are about to hatch, the eggs are spread over a flat surface and covered with a light blanket for a few days. The hatch comes out on the 28th day. The farmers claimed that the hatchability rate is 80% despite of the fact that no scientific maintenance of humidity and temperature is being done, both of which are crucial variables in commercial hatchery.
The workshop provided a much needed platform to exchange knowledge and lessons learnt across the region. Some of the recommendations made are:
The haphazard promotion of cross-breeding programmes can have adverse impact on the gene pool and due attention needs to be given to the conservation of indigenous breeds in their home tracts. 

Concept of Local service providers can show the way to increase outreach by public-private-NGO collaboration.

Livestock service providers' concept should be replicated whereever public sector cannot reach/function.

Beef fattening could be a way out of poverty for the poor and similar feeding practice can be used in small ruminants.

Visits to study successful models in the South Asian countries should be facilitated since they share common problems and constraints.
Contributed by - SA PPLPP Coordination Team