Trikal in Barmer: All Tharparkar breed conservation efforts go down the drain
by ruchita —
last modified

Jan 22, 2014 09:42 PM
Jul 15, 2008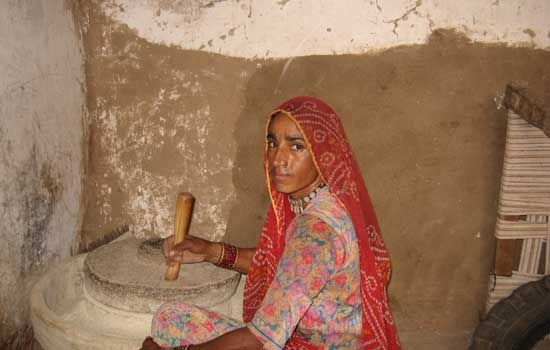 Takhta Bai in village Solankiye commented "This is Trikal, three years of continuous Akal (drought.). There is neither fodder for animals nor grains for us nor water for any of us!"
Barmer district in western Rajasthan is characterized by arid and semi-arid topography. Rainfall is very low and people practice mono-cropping. Livestock plays an important role in their sustenance and most households rear two or more cattle along with few goats. They depend on green fodder from common grazing lands-Oran and Gochars and dry fodder from crop residues. Farmers are undergoing unprecedented hardships as this is the third consecutive drought year.
All common ponds are on the verge of drying up or have already dried up. Although they have traditional ways of conserving water, these are not enough to cater to drought situation. This has resulted in people being forced to buy water brought in tankers. The villagers aspire for a community tube well from Government that could solve their water problems. However they do not foresee this in near future.
SURE- an organization working for the empowerment and upliftment of vulnerable people living in rural areas of the district initiated a comprehensive Tharparkar cattle breed development and conservation programme in the year 1999 since Barmer is the home tract for this indigenous cattle breed. The focus was greatly on facilitating community ownership and building local level knowledge systems on breed development. The program was successful and two generations of calves have been produced increasing the population of Tharparkar cattle.
To cater to the fodder requirements of this increased cattle population, community based pasture land development program was initiated. Unfortunately all the hard work put in by the community has come to a naught for want of rainfall. The only evidence of pasture lands are the broken boundary fences, remnant stubs of fodder grasses and dried up trees.
Cattle rearers report stunted growth, increased calving intervals, mis-carriages, night blindness and other mal-nutrition related animal health problems in their prized herd as well as other non-descript livestock. This could prove to be major setback to Tharparkar breed conservation programme. The only option available is to leave the animals at goshala being run by social organizations but this goes against their beliefs.
Sentiments of the community are reflected in the words of Dungra Ram.
"Our cows are like our children and you do not abandon your children in difficult times!"
Contributed by - SA PPLPP Coordination Team