Empowering Women for Backyard Poultry and Goat Based Livelihood Improvement
by ruchita —
last modified

Jul 25, 2014 07:09 PM
Jul 23, 2014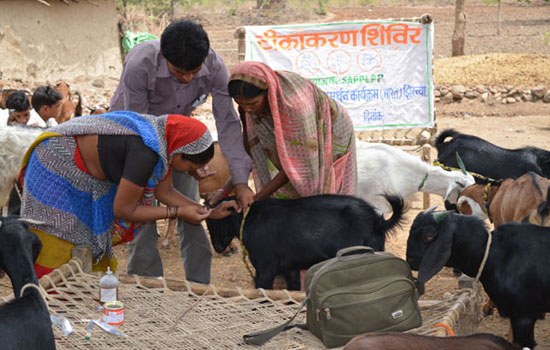 23 July 2014, Delhi, India - Ramilabehen, Surtibai, Tulshibai and thirty other women from 20 villages in two project clusters of SA PPLPP are undergoing an unexpected transformation, as they get groomed to be the champions of preventive and primary health care for backyard poultry and goats in their respective villages. These capable but semi-literate women were identified by their communities as appropriate emissaries for provision of health care services to the community at the village level, and subsequently underwent a rigorous training to gain knowledge and hone their skills.
Bearing on their shoulders vaccine carriers as a badge of their identity, these PashuSakhis and MurgiSakhis (literally, friends of animals and chicken, respectively, but more appropriately community animal health workers) are gaining recognition and respect in their neighborhoods because of their knowledge and competence in handling birds and animals. They have been doing the rounds of the village, educating their peers about good practices in hygiene, feeding and housing of animals, and sharing with them knowledge about the importance of timely deworming and vaccination of animals
In one of the project clusters (Jhirniya Block), the trained PashuSakhis completed vaccination camps for injecting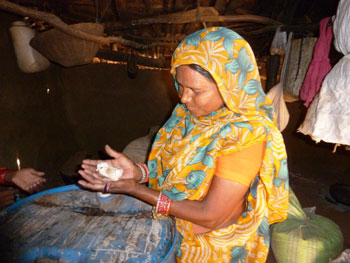 goats against the lethal ET (Enterotoxemia, a bacterial disease in goats and sheep, triggered by change in diet, usually with the onset of monsoon); vaccination is the cornerstone to prevention of this disease. Subsequently, another set of village camps were also organized for administration of booster doses. This could potentially offset mortality losses among goat rearing households by at least 50%.
In another project cluster (Rama Block), trained MurgiSakhis are conducting follow-up meetings in the project villages with assistance from project staff, and deftly responding to queries from participants in the meeting. They are preparing ground for organisation of village-level vaccination camps, wherein the birds would be vaccinated en masse against the New Castle Disease (Ranikhet), the most common and fatal of all poultry diseases in the country. Seventeen women from the project cluster were provided training on vaccination and preventive health care by Dr Kornel Das, one of the most respected and experienced backyard poultry development specialists in the country.
Building on documented learnings from places across the South Asia region and elsewhere, SA PPLPP designed and initiated two field pilot projects in Madhya Pradesh, Central India, with the purpose of demonstrating integrated models for backyard poultry and goat based livelihoods improvement. At the core of the two models is the conviction, based on prior experience elsewhere, that significant changes in household income and nutrition security are achievable through improvements in preventive and primary health care services available at the village level. During the first quarter since implementation began, palpable changes are already being observed in the two project clusters, located at Rama Block (Jhabua district) and Jhirniya Block (Khargone district).The South Asia Pro Poor Livestock Policy Programme (SA PPLPP) is a joint initiative co-funded by the Food and Agriculture Organisation (FAO) of the United Nations and the National Dairy Development Board (NDDB), India.
The current operational focus of SA PPLPP is on building collaboration and partnerships to strengthen field implementation, and state/national policy frameworks for smallholder livestock development programmes (primarily smallholder poultry rearing and small ruminant rearing), and facilitate an improved translation of policy and programme design 'on the ground'. It aims to do this through provision of strategic and evidence based advice to governments, at both national and state levels, financing institutions, and other development actors in the design, implementation and evaluation of equitable and sustainable small-holder livestock development interventions.
SA PPLPP is partnering with two local and credible NGOs, Sampark Samaj Sevi Sansthan, and Aga Khan Rural Support Programme (India), with decades of experience in rural livelihoods development, for implementation of the field pilots.
This is a more detailed version of the article which appeared in the July 2014 edition of the monthly newsletter, UN NEWS. 
Contributed by - Varsha Mehta