Pashu Sakhi Meeting Convened in Pratapgarh Tehsil of Thanagazhi Block, Alwar
by ruchita —
last modified

Jul 17, 2014 04:41 PM
Apr 25, 2014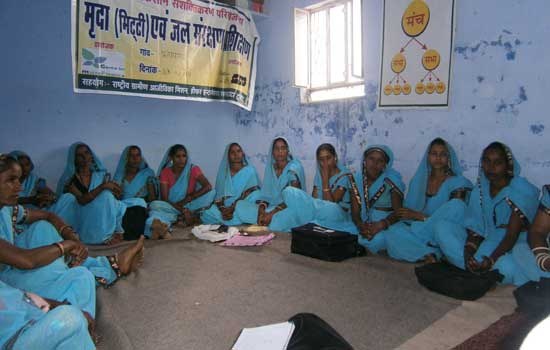 Pashu Sakhis at the fortnightly review meeting
25 April 2014, Alwar, India - Twenty one Pashu Sakhis provide primary health care services to small and large ruminants in nearly 32 villages in the Pratapgarh Tehsil of Alwar district in Rajasthan. These services range from vaccination and de-worming to providing first aid and medication for diseases such as diarrhoea, common cold, fever, and bloated stomach. In addition, they also raise awareness of livestock rearers regarding management practices such as shed maintenance, low cost feed and fodder, and provision of clean drinking water.

Every fortnight, the Pashu Sakhis convene at the office of their Federation, Chetna Mahila Manch in Pratapgarh Tehsil of Thanagazhi Block, Alwar, to review work done and share experiences among members; the meetings are held on the 8th and 23rd day of every month.

The Pashu Sakhi model of animal health care is an initiative of Ibtada, a not-for-profit organization based in Alwar. Conceived and implemented since the year 2007, the model consists of a cadre of trained women animal health workers at the village level (popularly known as Pashu Sakhis) and focuses on strengthening livestock rearing as a viable livelihood option through SHGs.

For the Pashu Sakhi review meeting on 23rd March 2014, 16 of the 21 Pashu Sakhis in the Tehsil were present. The meeting is also usually attended by the Paravet, Naresh Yadav, who monitors and supports the Pashu Sakhis. On this particular occasion, Akhilesh Pandey, the Project Coordinator (Livelihoods), Ibtada, was also present.

The meeting started with singing of religious hymns followed by self-introductions. As the meetings are chaired by members on a rotational basis, the group proposed the name of Smt Santosh, a Pashu Sakhi from Jaitpur village, who agreed to be the Chair that day; she apprised the group of a few simple rules to be adhered to during the course of the meeting. Among other things, this included switching off of mobile phones, not leaving the meeting without prior permission, and speaking one at a time.

There followed a discussion on the agenda items; the following were included: (i) follow up on the demonstration of a model shed for goats; (ii) preparation and sale of grain mixture for goats; (iii) stock taking of vaccination and de-worming schedules; (iv) castration of poor quality bucks; (v) making compost from goat litter and provision for its sale; (vi) organization of an animal health awareness camp; and (vii) constitution of the producer company for goat rearers.

As a collective decision, each Pashu Sakhi was entrusted with the responsibility of facilitating the development of at least 5 model goat rearing households, including her own, in her respective village. These model households are expected to showcase the best available management practices in goat rearing, and include an evenly levelled and well-ventilated goat shed, a manger for feeding, a tub for provision of clean drinking water, and hanging of tree loppings as fodder, instead of spreading them on the floor. These model households will serve as demonstration-cum-learning centres for other goat rearers in the village. All the Pashu Sakhis agreed to take up and complete this task in two months' time.

Most Pashu Sakhis also expressed concern regarding the sale of grain mixture  prepared by them, as villagers are reluctant to feed this mixture to their goats for lack of conviction about its benefits, which include a healthy coat, increased milk yield, etc. The group decided to provide 1 kg of this grain mixture on a no-cost basis to each rearer, with the request to feed it to only one selected goat from the herd, and observe the difference in their milking capacity. They also discussed replacement of bajra with any other grain owing to its exhausted stock in the households, and increased price in the market.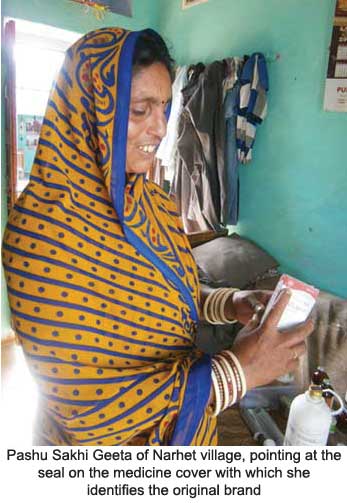 It was proposed that ET (Enterotoxemia) vaccination be initiated in all villages and for every goat rearing household. When some of the newly inducted Pashu Sakhis expressed concerns about carrying it out in large numbers at a time, the more experienced Pashu Sakhis from neighbouring villages offered their willingness to help out. Vaccination dates for each village were then decided based on mutual convenience. For villages which can be clustered together based on their proximity, it was decided to organize a camp for the purpose and also invite the Veterinary Officer from the Thanagazhi Block hospital to share information and raise awareness among livestock rearers. The date for the health camp was also decided with Pashu Sakhis bearing the responsibility to inform all concerned households in their respective villages.

The Paravet (Naresh Yadav) urged all the Pashu Sakhis to take stock of castrated and non-castrated bucks in their respective villages, to be able to prepare a realistic plan for castration of poor quality bucks. This would contribute to an improvement in the breed quality and also result in realization of higher profits from sale of fattened bucks.

The Project Coordinator from Ibtada, Akhilesh Pandey, introduced the group to the concept of a Producer Company, sharing with them information about the business potential of this model, and how good management practices in goat rearing can yield better financial returns. He reiterated the suggestion of selling goats and bucks by weight.

The Pashu Sakhis handed over a copy of their health care services records to the Para-vet. This was followed by taking stock of the medicines, de-wormers and vaccines which needed to be procured. A tie-up has been established with a chemist shop in the neighbourhood of the federation office, from where medicines can be bought at wholesale prices. Members unable to attend the meeting are informed of the deliberations by other Pashu Sakhis from neighbouring villages.

This highly motivated group of Pashu Sakhis came clad for the meeting wearing similar sarees, emphasizing and relishing their role in maintaining healthy livestock not only in their own but also the neighbouring villages.

Contributed by – Ruchita Khurana, with inputs from SA PPLPP Coordination Team