Women in agriculture: Closing the gender gap for development
by ruchita —
last modified

Jan 22, 2014 04:54 PM
Apr 26, 2011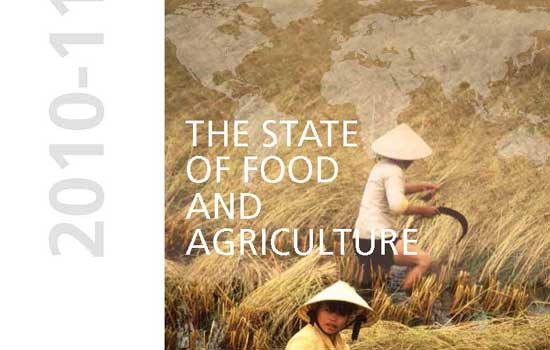 The 2010 -11 edition of the State of Food and Agriculture report published annually by the Food and Agriculture Organisation of the United Nations focuses on Women in agriculture: Closing the gender gap for development.
The report presents empirical data to demonstrate that promoting gender equality positively impacts on agricultural productivity and development. Women make essential contributions to the rural economy of developing countries as farmers, agricultural labourers and entrepreneurs. While generalizations should be made carefully on account of the diverse and rapidly changing role of women in agriculture, one fact that is consistent across countries and contexts is that women have comparatively less access to agricultural assets, inputs and services, and employment opportunities as compared to men.   
The report presents estimates of the potential gains that could be achieved by closing the gender gap in agriculture and rural employment, and critically evaluates experiences from countries where gender and development policies are in place. The report documents how agricultural policies and programmes aimed at closing the gender gap can generate gains for the agriculture sector, food security and society as a whole.
Some of the key messages presented by the report include information on the number of women in the agricultural labour force in developing countries, which averages 43 percent and the comparatively lesser access of women to productive resources and opportunities as compared to men. Limited or no access to farming inputs and resources results in women farmers producing less than their male counterparts. If women had the same access to productive resources as men, they could increase yields by 20-30 percent, raising overall agricultural output in developing countries by 2.5 to 4 percent. Production gains of this magnitude could reduce the number of hungry people in the world by 12-17 percent. 
The report also presents that when women control additional income, they spend more of it than men on food, health, education and other priority needs of their children. Policy interventions can help close the gender gap in agriculture and rural labour markets. Priority areas for policy reform highlighted in the report include the urgent need to eliminate discrimination against women in access to agricultural resources, training and education, extension and financial services and in labour markets; investing in labour saving and productivity enhancing technologies that would free women's time for more productive activities; and facilitating women's participation in more flexible, efficient and fair rural labour markets.   
The report can be downloaded from the FAO website through the following link: http://www.fao.org/docrep/013/i2050e/i2050e00.htm.
Contributed by - SA PPLPP Coordination Team