Workshop on Common Property Resource Institutions and Pastoral Production Systems highlights the need for convergence between agriculture and livestock development
by ruchita —
last modified

Jan 22, 2014 05:23 PM
Oct 01, 2010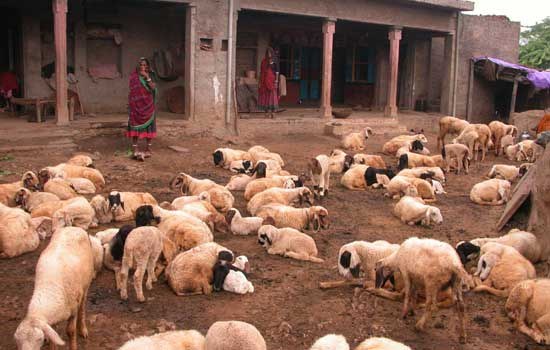 The Foundation for Ecological Security (FES) in collaboration with Anthra and the Centre for Social Ecology (CenSE) organized a workshop on the theme "Common Property Resource Institutions, Pastoral Production Systems and the Green Revolution in Transition: From Conflict to Convergence" at Pune on 3rd and 4th September 2010.
The workshop was convened as part of the preparations for the 13th Biennial Conference of the International Association for the Study on Commons (IASC) which will be hosted by FES in Hyderabad early next year.
The objective of this workshop was to provide a forum to explore options for strengthening common property institutions and pastoralism as an alternative production system for sustainable resource use.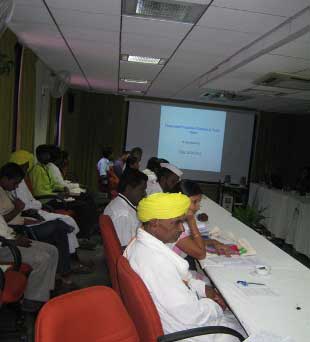 Participants at the two day workshop included practitioners, representatives of educational and research institutes and also members of shepherd communities from Maharashtra, Karnataka and Andhra Pradesh. A few key participants included Dr Nitya Ghotge, Anthra; Dr Purnendu Kavoori, CenSE ; Dr.Ajay Dandekar, IRMA; Dr Madhav Gadgil, renowned environmentalist; Mr Kamal Kishore, Rainfed Livestock Network; Mr Viren Lobo, SPWD; Dr Tekade and Dr Kulkarni, Maharashtra State Sheep and Goat Corporation; and Mr P. Vivekanandan, SEVA, Tamil Nadu.
Some of the key speakers spoke about pastoralists and pastoralism, comparing both the historical and contemporary perspective. Within the context of common property they raised the need to look at pastoral communities, their production systems and the specific niche they create for themselves in response to change. The workshop further highlighted the need to study the 'new commons" such as dams, land belonging to factories etc.
There were discussions on case studies presented from the southern states where communities have staked their claim to the right to graze on CPRs. Some positive examples of synergy between settled farmers and pastoralists were discussed, a case in point being the demand for sheep and goat manure by organic chiku farmers in the Dahanu region of Maharashtra which benefited sheep rearers of Ahmednagar district.
The presentation made by the Maharashtra State Sheep and Goat Corporation, Pune showcased their work, undertaken  in collaboration with  sheep and goat rearers, and included conservation of  sheep breeds such as the Madgyal as also wool improvement.
Workshop deliberations highlighted the fact that there has been a reduction in budget allocation for the animal husbandry and dairying sectors over the last nine five year plans.
Other issues raised included the acute shortage of fodder and water that adversely affected livestock productivity. While watershed development is a major programme for rainfed regions of the country, the focus has largely been on agriculture development. There is need for convergence between livestock and agriculture development especially in rainfed areas. A few issues raised by participants for policy dialogue included the need to do away with the term waste-lands as land termed waste was actually part of the commons and very useful for many marginal communities. Many of these lands are the first to be allotted for purposes other than grazing, without analysis of the livelihood basis and use of these lands, often by the poorest communities.
Further, the Forest Rights Act (2006) requires documented evidence of land use over a 75 year period to assess claims and rights over land. This is often impossible for pastoralists to submit as they do not have the papers to prove the same. Land acquisition acts are often in favour of the government and sometimes industry, and it is extremely difficult for communities to access or acquire lands for purposes such as grazing or fodder development. In addition, under the Green India Mission, tree planting has been given priority for carbon credit generation; this could lead to further destruction of grasslands.
A session on gender and pastoralism was coordinated by Ms Soma Parthasarathy. The need to look at gender issues in the pastoral context as also deeper study on the subject was stressed.
The workshop is the first in a series of three workshops being organized prior to the IASC conference, under the theme 'Sustaining Commons: Sustaining Our Future', to be held in Hyderabad in January 2011. These regional workshops, covering Southern, Western and Mountain regions of India, will identify priorities for policy dialogue and will centre-stage issues related to the sustainable development and management of common pool resources.
Contributed by - SA PPLPP Coordination team with inputs from Mr S E Pawar, Dr Nitya Ghotge, Dr Purnendu Kavoori and Mr Rahul Chaturvedi