Wooden poultry sheds enhancing the livelihoods of poultry keepers and carpenters
by ruchita —
last modified

Jan 22, 2014 10:24 PM
Apr 24, 2009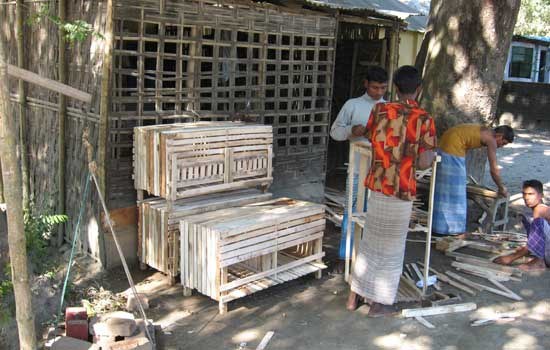 Carpenters making locally available wooden poultry shed
The concept of rearing poultry birds in wooden shelters comes from traditional system of poultry rearing in Bangladesh. BRAC introduced this system as part of their ultra poor programme in 2005.
In this programme, BRAC gives a specially designed wooden shelter for rearing poultry birds and two tin sheets for making shed for housing other livestock. They supply 10 desi (indigenous) poultry birds (9 hens + 1 cock) along with other livestock (1 cow/ 5 sheep/5 Black Bengal goats). BRAC provides both financial and technical support to the women selected as rearers. A three days training is given to these rearers. The training mainly focuses on rearing methods, housing system, improved feeding methods and primary disease prevention. Moreover, it also provides technical guidance and vaccination facilities through its well trained vaccinators/poultry workers. This programme has now been continuing successfully in this area.
BRAC developed a prototype of special wooden shelters for the rearing of poultry birds that could be placed anywhere in the house. It is made up of locally available wood or bamboo. The measurement of the shelter varies according to the number of the birds to be housed. A wooden shelter measuring 3 ft in Length, 2.25 ft in width and having a height of 2 ft costs only 300 Tk.
The main benefit of this shelter is that it is not fixed and can be transferred from one place to another. It thus protects the birds from sun, cold and predators. Moreover, it can be cleaned easily and properly by taking it outdoors. This minimizes the risk of infection from different diseases. Moreover, from the view point of ventilation for the bird, this shelter is an ideal one.
Recently, three focus group discussions with the beneficiaries and poultry vaccinators were organized to share the impact of the BRAC developed wooden shelters for poultry rearing. A few significant impacts reported during these discussions were generation of self employment and minimum investment in housing of birds leading to better management. All of them agreed that this cost effective wooden shelters for rearing scavenging type indigenous poultry birds has revolutionized rearing of poultry birds in the area.
This prototype is now being profusely adopted by local carpenter entrepreneurs who make similar wooden shelters with the easily available wood material and sell it into the market. These shelters are in good demand by the poultry rearers. They are also a good source of livelihood for carpenters who had earlier lost their livelihoods to decreasing demand of wooden furniture.
Contributed by - BRAC, Bangladesh