Kadaknath poultry rearing provides a sustainable livelihood opportunity for Keena and her family
by ruchita —
last modified

Jan 08, 2014 04:54 PM
Jan 12, 2010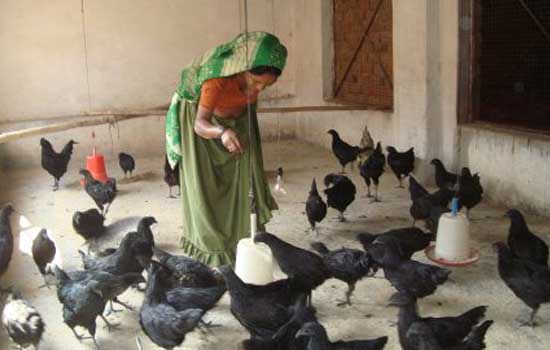 Smt. Keena, lives in the Mendal village of Jhabua district in Madhya Pradesh with her husband, Nanu and two daughters. With no land to cultivate, Keena and her husband worked as wage labourers, and would often migrate to nearby villages in search of wage labour for almost seven months each year from September to March.  
In March 2005, when Keena returned to her village for the festival of Holi, she participated in a village meeting for Self Help Groups organized by the Assistant Development Officer (ADO), of the Jhabua Zila Panchayat, in charge of the Swarnjayanti Gram Swarozgar Yojana (SGSY)1. In the meeting Keena and other women from the village, discussed the possibility of forming a Self Help Group. Following the meeting, Keena was convinced and decided to become a member of the Self Help Group called the "Kala Bachat Samuh" along with eleven other women of her village. Members of the SHG met once each month and initially savings and credit was the only activity undertaken. A year after forming the SHG, members decided to initiate some activities to generate income for the family. However, considering the low saving level within the group, Keena obtained a bank loan of Rs.22,000/- with a 50% subsidy under the SGSY and the Integrated Tribal Development Project, facilitated by the Madhya Pradesh Rural Livelihoods Project (MPRLP). With her past experience and interest in rearing local poultry birds, Keena decided to rear Kadaknath, an indigenous poultry breed of Jhabua District. In order to gain an understanding of setting up a small farm, Keena visited the government Kadaknath farm at Jhabua to get formally trained in rearing poultry. The training was provided free of cost by the farm over a three day duration. The on-farm training provided Keena with the necessary skills for systematic rearing and provided critical inputs essential to initiate Kadaknath poultry rearing.
Dr. Rathi at the government run Kadaknath farm provided all the information to support Keena to start a viable unit. Keena first constructed a shed measuring 22*12 feet with the help of her husband and a skilled mason. With the loan amount, Keena purchased 200, 15-20 day old pre-vaccinated chicks at the rate of Rs 15 per chick from the government farm. The follow-up vaccination and deworming services were also provided by staff from the farm at the village at no additional cost.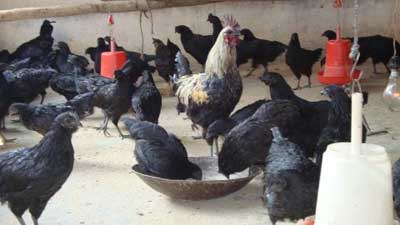 Although initially Keena had purchased 200 chicks through the loan received from the bank, in the second cycle of the same year she decided to buy only 100 chicks keeping in mind her investment capacity. Her Kadaknath rearing venture resulted in an annual profit of more than Rs 37000/- enabling her to return the loan of Rs. 11,000/- to the bank in 2007. Most birds are sold by Keena for Rs 300 each as they reach 5-6 months of age and weigh between 1-1 ½ Kg. Keena is able to sell the birds from her home itself, and rarely does her husband have to visit the local village haat. Kadaknath birds sell at a premium of 100% -150% compared to broilers, as these birds are attributed to have medicinal value and a distinct dark meat which is much sought after by the local population.
The Kadaknath poultry rearing unit emerged as a good source of income for Keena to meet both her household financial needs as also provide a source of nutrition for herself and her family. With the surplus income generated from Kadaknath rearing she has purchased assets in the form of a bullock, 4 goats and a small flock of desi birds. The family diet now includes eggs and chicken, particularly during festivals and when guests visit them. Keena has now taken two acres of agricultural land on annual lease. She cultivated wheat and gram during the Rabi season and maize during the Kharif season which not only helped her to meet the food requirements of her family but also provided a feed-base for her scavenging birds. In order to get good returns from the Kadaknath birds, Keena supplements their feeding with commercial feed. Her good management practices are reflected by a low mortality rate of 10%.
Not only is Keena an active member of the SHG, she also manages the finances at home with support from her husband. Till date she has successfully reared six cycles of Kadaknath birds and finds pride in running this enterprise, which has stopped her family from frequent migration. "There is no need for the family to migrate in search of wage labour anymore", contends Keena. She is a happy woman who has set an example for other tribal families to emulate.
Reference:
[1] Swarnjayanti Gram Swarozgar Yojana - SGSY is being implemented since April 1999 as a major anti-poverty scheme for the rural poor, by organizing them into Self Help Groups (SHGs), providing them with skill development training and facilitating credit linkage with financial institutions and providing infrastructure and marketing support for the products produced by them. The Government of India and the State Governments share costs for the implementation of the scheme in the ratio of 75:25 (Source: Ministry of Rural Development, http://rural.nic.in/book99-00/chap-6-a.pdf)
Contributed by - Dr R K Pathan, BAIF (2010)