Poultry rearing in homestead areas – a source of nutrition and income for women
by ruchita —
last modified

Jan 07, 2014 07:07 PM
Mar 17, 2010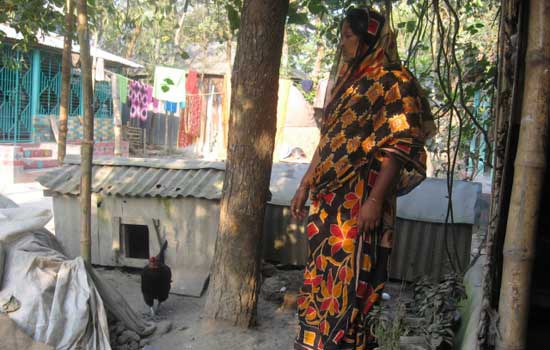 Kulsum Digam, a resident of Boitara village in the Manikganj district of Bangladesh, lives with her husband and three children. Her husband is a machine mechanic and her two sons work as masons on a construction site close by. Her daughter is a class seven student. Kulsum has been rearing poultry for the last seven years and maintains a constant flock of 9-10 birds. She initiated poultry rearing by availing a loan of 3,000 Taka from BRAC in 2003. She bought poultry (desi birds) for 1000 Taka and a cow with the remaining amount. Over the past seven years her cow has given birth to three heifers which were sold in the market.
As we visited her home, Kulsum called out to her flock of birds, and she proudly demonstrated how she feeds them boiled rice and rice bran as supplements to scavenging in the homestead area. Since mortality in the birds is higher during the winter season, she does not allow hatching of chicks at the onset of winter. Her poultry birds lay 14-15 eggs in one clutch. The eggs of desi birds fetch a good price in the local market, averaging 35 Taka for four eggs. Presently four of her flock of ten hens are laying eggs, all of which are consumed at home, providing a vital source of nutrition for Kulsum and her family. Kulsum informed that 12-14 eggs are put under one hen for brooding of which an average of 9-10 hatch. 6-7 chicks survive and grow into adults.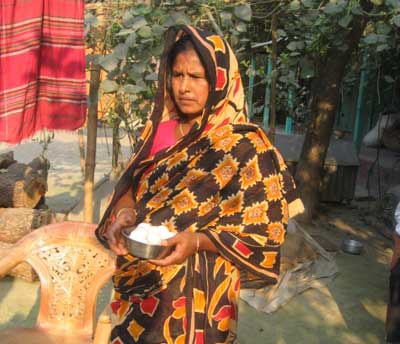 Kulsum is aware of poultry diseases like white diarrhea and Newcastle disease and consults Tuar Jaan, the poultry vaccinator, trained by BRAC in her village, if she observes any symptoms of illness in her flock. Tuar Jaan vaccinates the poultry birds regularly against a payment of one Taka for each bird. While layer hens are sold by Kulsum from her home, cocks are taken to the market to realize a better price. "The earning made from the sale of birds and their eggs is kept by me and I spend it the way I please. Generally I spend it on my daughter's education", contended Kulsum. In addition to providing her with a small but secure source of income, which she can truly call her own, Kulsum's poultry flock also provides a source of meat and eggs for her family.

Contributed by – SA PPLPP Coordination Team (2010)