Social Constraints to increasing flock size – the story of Tarabela, a widow in South 24 Parganas district, West Bengal
by ruchita —
last modified

Jan 08, 2014 04:35 PM
Dec 12, 2007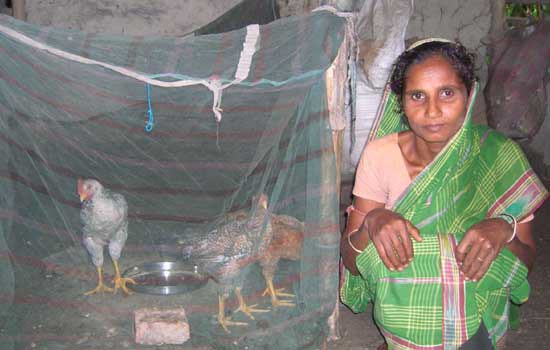 Tarabela Ghosh is a frail 37 year old widow with the responsibility of bringing up three minor sons. She lives in a one room house with an attached kitchen, which comprises her share in her husband's ancestral home. Her father-in-law, mother-in-law, and three brothers-in-law stay in the same house with their respective families. Each brother runs his own kitchen and the family shares a common yard. The family does not own any land. The house is 50 meters away from the main road and has coconut, betel nuts and guava trees growing around it. Tarabela rarely gets her share of fruit but she does not protest since she has to live with the family and does not want to antagonize them. Her husband's family does not provide her any financial support.
Tarabela's husband died 9 years ago after suffering from a prolonged illness. He owned an auto-rickshaw which was sold when he was still alive and the money went towards his treatment. When her husband died, Tarabela was left with three young sons all under 10 years of age and no means of livelihood. Her mother-in-law taught her to make par-boiled rice from paddy and Tarabela earns her living by making and selling par-boiled rice from home. In 2006 she took a loan of Rs 3,000/- from an NGO to buy utensils for her rice business.
Although her husband's death brought about many changes in Tarabela's life, her flock of hens remained constant. Ever since she can remember, she has had 8-10 hens at all times. Previously her poultry flock primarily comprised desi birds, but she has now moved to a combination of desi and Kuroiler birds. . She first saw the Kuroiler at her maternal home, and liked its color, size and built. Her mother informed her of the Kuroiler's ability to lay more eggs than the desi bird, that were also larger and tastier. At the same time the Mother Unit person who was also her neighbour advised her to try rearing Kuroiler birds. He pointed out that she would not have to spend money on feed as there was enough broken rice and paddy left over from her par-boiled rice enterprise. Moreover he was willing to give her a few chicks on credit to be paid once she sold the Kuroiler. That was the beginning of Kuroiler rearing for Tarabela, and she has since continued with them. She sources her Kuroiler from her neighbor who has a Kuroiler Mother Unit. She is able to sell her Kuroilers and eggs from home.
Tarabela neither vaccinates her flock nor does she deworm them. Desi and Kuroiler birds are kept together in a pen (enclosure) made up of bamboo and mosquito net in her kitchen. Her management practices include cleaning the pen daily, providing a feed of paddy and broken rice, dusting the birds with ash to clean them and allowing the Kuroiler to scavenge only for one or two hours daily. In her view "Kuroiler is a royal bird and should not be seen scavenging"
She does not trust anyone as far as feeding is concerned. For this reason she avoids overnight visits away from her home. She is very attached to her birds and looks after them well. Tarabela earns around Rs 700/- from her rice business. Therefore any income from the sale of eggs or birds is a welcome addition to her income. She uses this additional money to buy vegetables, pulses, clothing and school items for the children. Her father helps her whenever he can. He has kept Tarabela's eldest and youngest sons with him to lessen her burden. The eldest son helps his grandfather in his hardware shop while the youngest son is a student.
The son who stays with Tarabela is in class VII and is 15 years old. He neither helps Tarabela with the rice business nor with her poultry. According to Tarabela, her son feels that he is too educated to do such menial jobs. Tarabela is fed up of her son and does not know how to cope with the situation. She opines: "Only a person who has a useless son knows the pain of having one"
Tarabela feels that she could increase her rice business if only one of her sons helps her with the work. It is labour intensive work and she is unable to handle the heavy pots on her own. She would also like to increase the size of her Kuroiler flock, but is unable to do so since she cannot exceed the number of birds owned by her sister-in-law. This would create tensions in the family. Since she is a widow, she cannot do better than them, and will therefore have to be content with rearing nine birds only. She hopes for a day when she will not have to work so hard, perhaps when one of her sons starts earning enough to support her. Until such time, she will have to live within these social constraints, finding small joy with her flock of hens.
Contributed by – SA PPLPP Coordination Team (2007)