Dumasil
by ruchita —
last modified

Jan 22, 2014 12:58 PM
Mar 15, 2013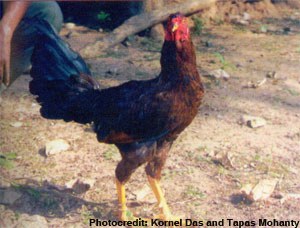 Native tract
Mostly found in Karaya and Jashipur blocks of Mayurbhanj district in Odisha.
Characteristics
Birds of both sexes are active and alert and fairly large, about 80 cm in length and 70 cm in height.
Plumage colour: There are two recognized varieties – black and brown.  In the black variety the plumage colour of entire body including wings is black with a greenish sheen. In the brown variety the plumage colour is uniformly lustrous dark brown from head to tail.
Pea comb is common.
Wattles are red in colour, moderately sized in males, rounded at the bottom and free from wrinkles.
Eyes are compact and small. Eyelids are light red in colour.
Standard Weight:
-Cock: 3 to 3.6 kgs
-Hen: 2 to 2.5 kgs.
Egg laying age: 6 months.
Average annual egg production: 100 to 150 eggs.
Egg shell colour: Light to medium brown.
Cultural / Economic Significance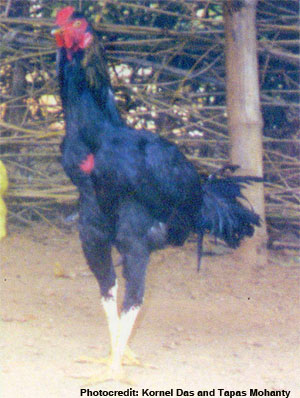 It is a dual purpose bird used for both egg and meat production. The males, though used for cock fighting, are less aggressive. The birds are reared in the smallholder production system with family flock size ranging from 4 to 7 in number. The hens are less broody compared to other indigenous domestic fowl. The eggs are hatched through use of broody hens of other indigenous breeds. The birds of the breed possess the ability to survive and perform in a low input system of production and in harsh environments.