Kalahandi
by ruchita —
last modified

Jan 22, 2014 12:57 PM
Mar 15, 2013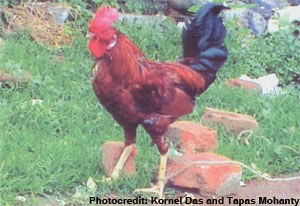 Native tract
Widely distributed in Bhawanipatna, Khariar and Nawapara subdivisions of Kalahandi district of Odisha.
Characteristics
Birds are alert, active and vary from small to medium in size with well-proportioned body.
Plumage colour differs on the 3 different varieties:
-Brown or Khairi
-Black or Kabri
-Barred or Chitri.
Average Body length:
-Male: 70 cm
-Female: 55 cm.
Height:
-Male: 69 to 78 cm
-Female: 51 to 64 cm.
Single comb with 5 serrations is very common.
Wattles are fairly large and well-rounded and red in colour.
Head is small to medium in size.
Eyes are medium sized, usually gray or black in colour.
Standard Weight:
-Cock: 2 to 3 kgs
-Hen: 1.3 to 1.7 kgs.
Egg laying age: 5 to 6 months.
Average annual egg production: 100 to 150 eggs.
Egg shell colour: White

Cultural / Economic Significance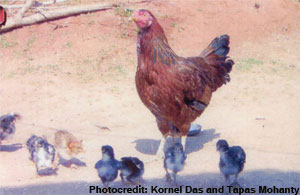 The birds are raised in the backyard in the smallholder production system. Flock size varies from 8 to 100 birds. It is a dual purpose bird for production of both eggs and meat. About 50% of the eggs are for consumption and the remaining for hatching.
The birds are well adapted to their environment and capable of protecting themselves from predators.