Phulbani
by ruchita —
last modified

Jan 22, 2014 12:56 PM
Mar 15, 2013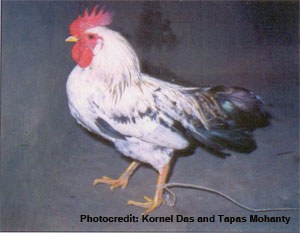 Native tract
Mostly found in the districts of Phulbani and Boudh in Odisha.
Characteristics
Birds of both sexes are alert and active and vary from small to medium in size.
Length of the bird varies from 42 to 71 cm.
Plumage colour is varied, predominant being black, various shades of brown and white.
Based on comb types two varieties are recognized – rose comb and single comb.  Combs are fairly large in males.
Wattle is poorly developed.
Standard Weight:
-Cock: 1.2 to 1.5 kgs
-Hen: 1.0 to 1.2 kgs.
Egg laying age: 6 to 7 months.
Egg production: 8 – 12 per clutch; an average of 3 – 4 clutches in a year.
Average annual egg production: 40 eggs.
Egg shell colour: White.
Cultural / Economic Significance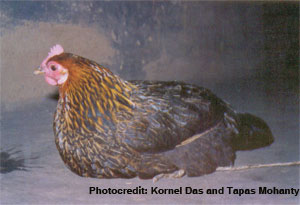 Used for both production of eggs and meat.  Females are broody hence used for hatching and rearing of chicks. Cocks are rarely used for fighting. The birds are reared in the smallholder production system and are well adapted to their environment. Flock size varies from 4 to 30 birds.