Gujuri
by ruchita —
last modified

Jan 22, 2014 12:59 PM
Mar 15, 2013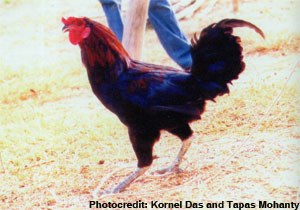 Native tract
Widely distributed in Baripada and Khunta blocks of Mayurbhanj district in Odisha
Characteristics
Birds of both sexes are active and alert with a well-proportioned body.
Plumage colour varies from dark brown to maroon throughout the body.
Buttercup comb is very common which is big in size and well developed in both sexes.
Wattles are bright red in colour, well rounded but smaller in size.
Eyes are small, round and brown in colour.
Body length:
-Male: 66 cm
-Female: 53 cm.
Height:
-Male: 57 cm
-Female: 54 cm.
Standard Weight:
-Cock: 2.5 kgs
-Hen: 1.5 kgs.
Egg laying age: 6 months.
Egg production: 15 – 20 per clutch; an average of 3 – 4 clutches in a year.
Average annual egg production: 80 to 100 eggs.
Egg shell colour: Light to medium brown.
Cultural / Economic Significance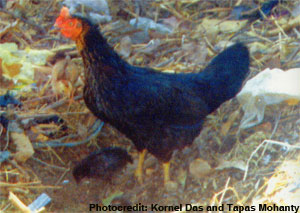 Also known locally as Thusuri, Kadamkhadia, Khairi, Kalua and Bansabania. It is a dual  purpose bird and used for both production of egg and meat. Males are good fighters and hence used for cock fighting. Most of the eggs produced are hatched since chicks fetch a better price than eggs. The birds show an excellent adaptability to their native environment, are tolerant to heat and cold.