Hansli
by ruchita —
last modified

Jan 29, 2014 04:36 PM
Mar 15, 2013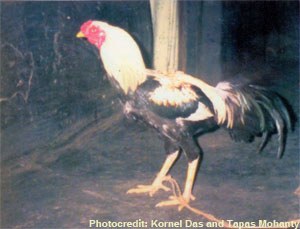 Native Tract
Widely distributed in Udala and Kaptipada blocks of Mayurbhanj district in Orissa. Also found in varying numbers in other blocks of the same district as well as the adjacent district of Keonjhar.
Characteristics
Birds of both sexes are fairly long.
Body length:
-Male: 71 to 74 cm
-Female: 48 to 57 cm.
Height:
-Male: 61 to 75 cm
-Female: 45 to 63 cm.
Comb, wattles, face and earlobes are red. The birds of this breed are characterized by pea comb.
Beak and head are light yellow and eyes are light gray.
Standard Weight:
-Cock: 2.5 to 3 kgs
-Hen: 1.75 to 1.85 kgs
-Cockerels: 1.5 to 2 kgs
-Pullets: 1.2 to 1.4 kgs.
Egg laying age: 6 months.
Egg production: 10 – 20 per clutch; an average of 3 – 4 clutches in a year.
Average annual egg production: 50 to 60 eggs.
Egg shell colour: Light brown.
Cultural / Economic Significance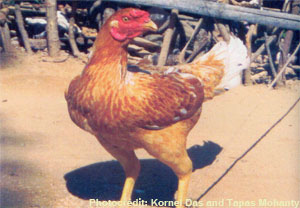 The males of the breed are very aggressive with high stamina and dogged fighting qualities and are used for cock fighting which is a popular sport in the region. All the eggs produced are hatched and rarely used for consumption, unless the weather conditions are adverse for a good hatch. Meat fetches a good price in the market since it is considered tastier than that of farm-bred chicken. Fighting cocks are sold at exorbitant prices, usually 3 to 4 times higher than when they are sold for meat purposes.