Kadaknath
by ruchita —
last modified

Jan 22, 2014 12:15 PM
Mar 15, 2013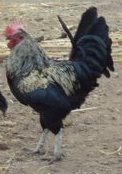 Native Tract
Bred by the tribals in the Jhabua and Dhar Districts of western Madhya Pradesh.
Characteristics
Day-old chicks are bluish to black with irregular dark stripes over the back.
Adult plumage varies from silver and gold-spangled to bluish-black without any spangling.
The skin, beak, shanks, toes and soles of feet are slate like in colour. The comb, wattles and tongue are purple. Most of the internal organs show intense black colouration, which is pronounced in trachea, thoracic and abdominal air-sacs, gonads and at the base of the heart and mesentery.
The blood is darker than normal. The black pigment is the result of  melanin deposition.
Average adult body weight:
-Cock :  1.5 kg
-Hens:  1.0 kg.
Annual egg production: 80.
The eggs are light brown in colour.
Average egg weight: 46.8 gms. 
Cultural / Economic Significance
The original name of the breed is Kalamasi, meaning a fowl with black flesh, which, though not very appealing to the eye, is very tasty. The bird is resistant to diseases in its natural habitat in free range conditions but is more susceptible to Marek's disease under intensive rearing conditions. Kadaknath chicken is said to contain many kinds of amino acids and vitamins and are a powerful source of protein.