Kalasthi
by ruchita —
last modified

Jan 22, 2014 12:15 PM
Mar 15, 2013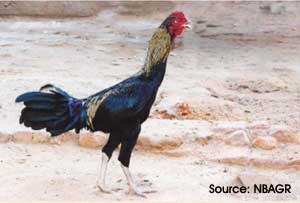 Native Tract
These are native to the Chittoor district, and adjoining regions of Nellore district in Andhra Pradesh.
Characteristics
The common plumage colour is bluish black but brown birds are also noticed. The colour pattern is generally patchy in males and spotted in females.
Cocks possess shining golden feathers on the neck and wings.
Legs are proportionately longer.
Wings are dorsally set revealing thighs enveloped with smooth feathers.
Wattles are absent.
Comb is red, pea type and compressed.
Spur is small in size.
Average adult weight:
-Cock is 2.48 ± 0.13 kg
-Hen is 1.85 ± 0.10 kg.
Average age at first laying cycle: 6-8 months.
Number of eggs laid in one egg laying cycle of 15-25 days: 9-14.
Annual egg production: 30-40.
Average egg weight: 42.91 ± 1.94 gms.
Cultural / Economic Significance
The birds are reared in the backyard farming system primarily for meat.