Jamunapari
by ruchita —
last modified

Jun 30, 2014 02:17 PM
Feb 21, 2013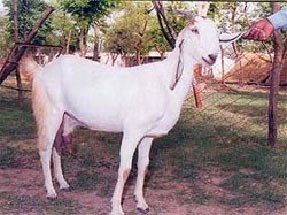 The Jamunapari breed is native to the north-west arid and semi-arid regions of Etawah district in Uttar Pradesh, although they are currently found in a number of states, from Assam and West Bengal in the east, to Uttarakhand and Jammu and Kashmir in the north, Madhya Pradesh, and Jharkhand in central India, and Karnataka in the south.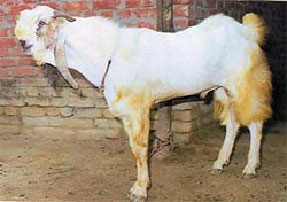 They are white with tan or black markings on the neck and ears; a beard is present in both bucks and does with a tuft of long hair on the hind legs. They are considered the largest and most elegant of the long legged goats of India. They have long and pendulous ears (26-28 cm), tubular with the opening towards the front. The horns are short and flat, horizontal and twisting backwards.  Kidding occurs once a year resulting mostly in single births and at times twins. 
The Jamunapari breed is a dual purpose breed with good meat and skin. The milk yield is 280 kgs in a lactation period averaging 274 days; the highest recorded is 4 kg a day with a lactation yield of 575 kg. The fat content of milk ranges from 5.2 to 7.8 percent. According to the 18th Livestock Census 2007, the number of Jamunapari goats in the country is 1,056,633. The National Bureau of Animal Genetic Resources has put the Jamunapari goat breed on the 'endangered species list'. 
| | Adult Male    | Adult Female |
| --- | --- | --- |
| Average Body weight (kg) | 43 to 46  | 38  |
| Average Body length (cm) | 76 to 78  | 75  |
| Average Height at withers (cm)    | 77 to 79  | 75  |
| Average Chest girth (cm) | 78 to 81  | 76  |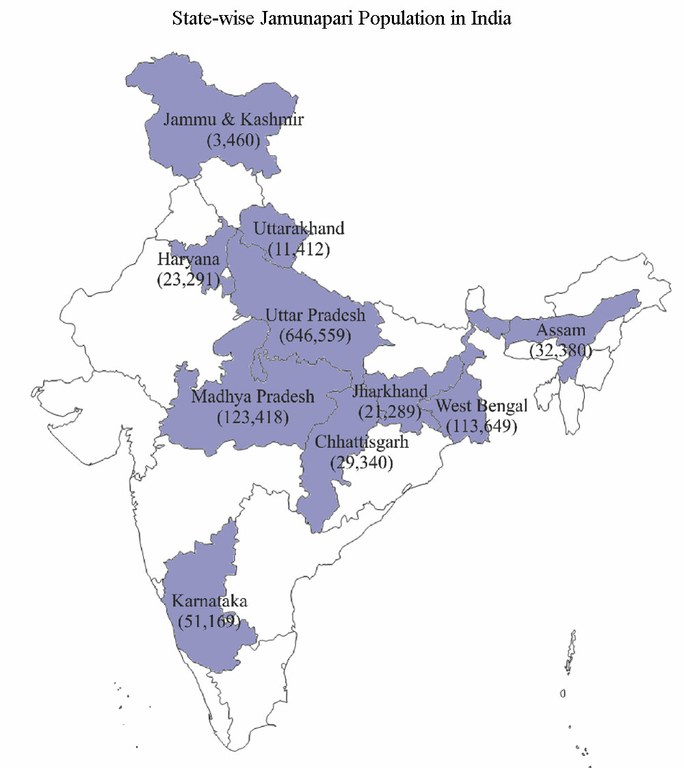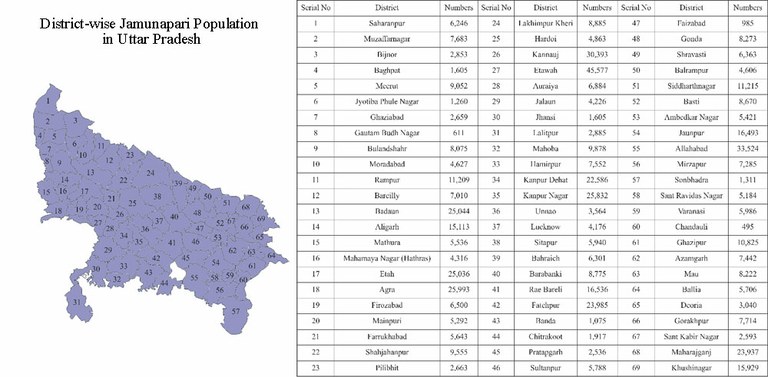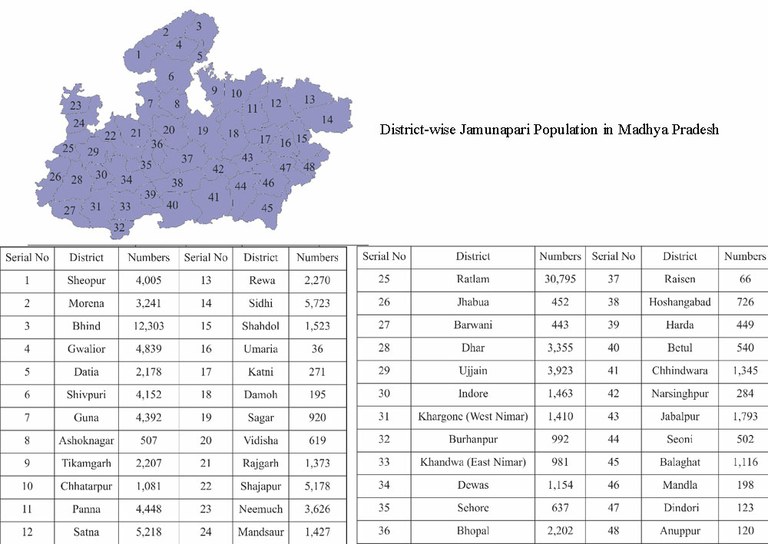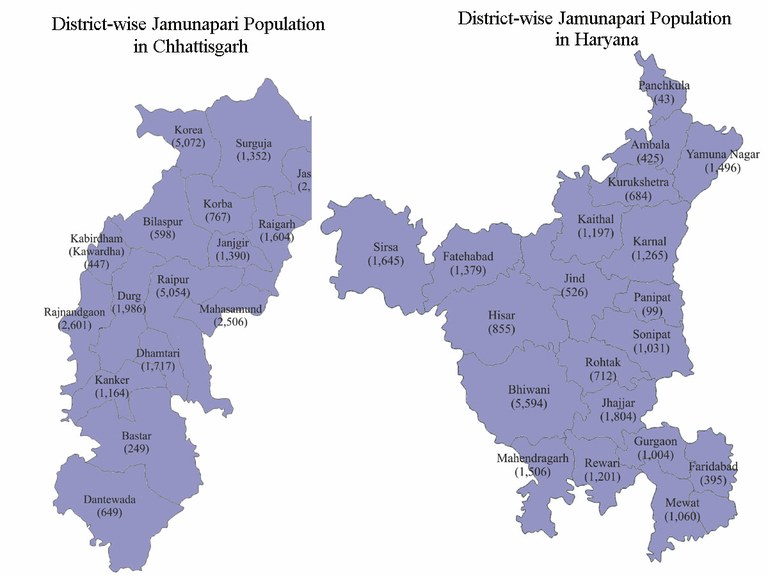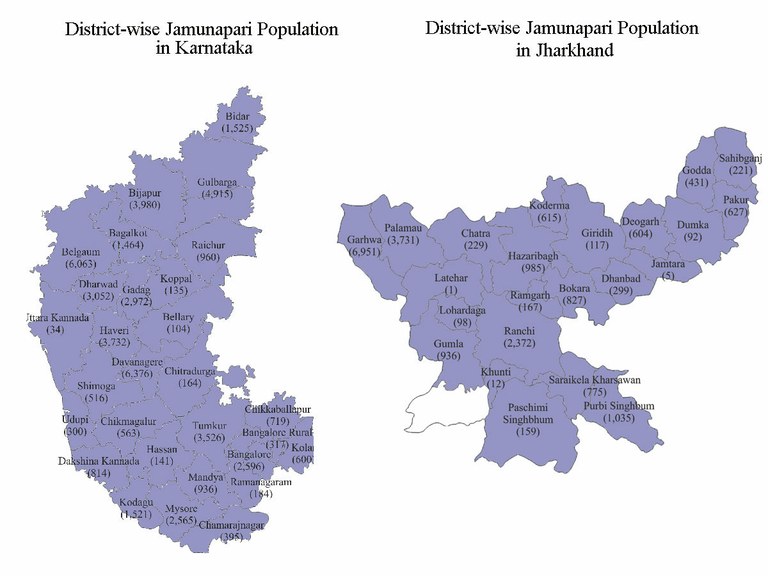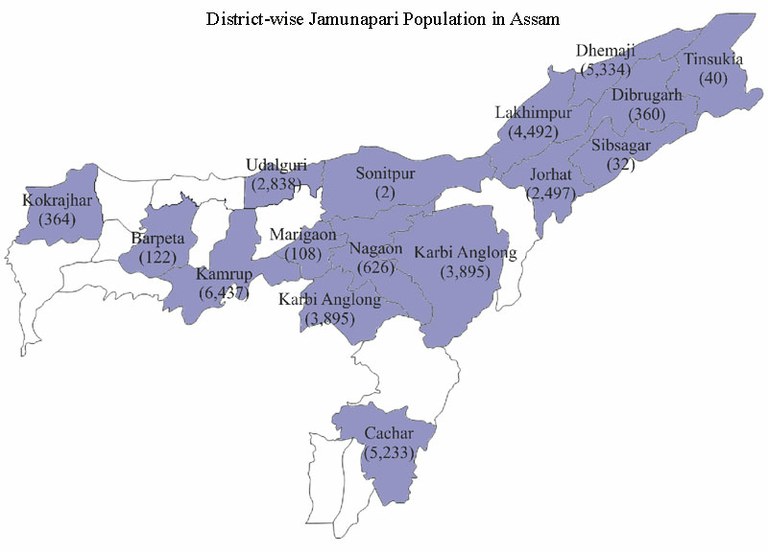 Text Source: http://www.fao.org/docrep/004/x6532e/X6532E03.htm#ch2.3.6
Photo Source: http://www.dairygoatjournal.com/issues/82/82-3/PK_Rout.html