SA PPLPP Field Initiatives Gain a Fillip After Visit from Joint Secretary and FAO Representative, India
by ruchita —
last modified

Jul 31, 2014 03:34 PM
Jul 31, 2014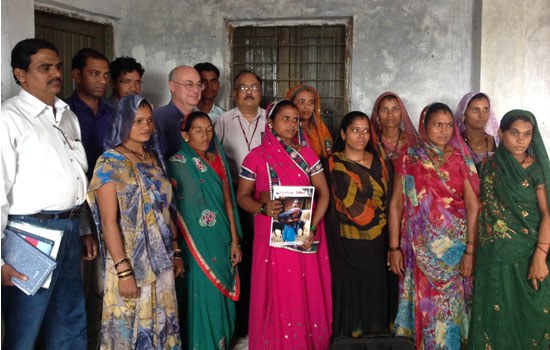 Mr Sanjay Bhoosreddy, Joint Secretary, Department of Animal Husbandry, Dairying and Fisheries, GOI, Dr. Peter Kenmore FAO Representative, India, senior district and state officials and AKRSP team members with Pashu Sakhis at Jhirniya cluster, Khargone
Pashu Sakhi Nimabai giving a detailed account of the medicines that are part of their kit and how they use them
Pashu Sakhi Nimabai interacting with the visitors on the annual vaccination calendar
July 2014, Madhya Pradesh, India - It was a moment of pride and joy for the Pashu Sakhis and Murgi Sakhis (community animal health care workers) to share their newly gained knowledge, skills, and learning experiences from services being provided by them to goat and backyard poultry rearers in SA PPLPP project clusters in Khargone and Jhabua districts respectively, with Mr Sanjay Bhoosreddy, Joint Secretary, Department of Animal Husbandry, Dairying and Fisheries, Government of India and Dr. Peter Kenmore, FAO Representative, India and senior district and state officials of the concerned department and administrative divisions. The dignitaries were visiting to review the progress of integrated goat and poultry rearing initiatives in the two districts, being implemented by SA PPLPP in partnership with the Aga Khan Rural Support Programme (India) and Sampark Samaj Sevi Sansthan. The field visits were organized by SA PPLPP on July 22 and 24, 2014 at Khargone and Jhabua, respectively.
The trained women spoke passionately about their work, including how they diagnose various diseases in small holder livestock, preventive health care, hygiene and appropriate management practices. The Joint Secretary estimated potential savings of up to INR 150,000 this year on account of mortalities averted as a result of the ET vaccination drive in a village Saka, against a nominal cost of INR 750 which covered all the goats in the village.
Murgi Sakhi Ramilaben administering the R2B vaccine to a Kadaknath bird
When quizzed by the District Collector and the Deputy Director (Animal Husbandry) about the medicines inventory and
 vaccination kits they were displaying, they explained confidently the use of each, as well as the precautions to be observed, such as maintenance of cold chain.
Meetings with goat rearers in Saka and poultry rearers in Sad Gram Panchayat were followed by interactions with individual families and households. Members of the Goat Rearers Groups in village Baghdari, Khargone were eagerly waiting despite the incessant rains, to show their improved goat sheds; five sheds have been constructed with MGNREGS funds (average INR 38,200 per shed), and an alternative low-cost model developed under the project, at a total cost of INR 18,700, with 50% beneficiary contribution.
Inside a low-cost goat shelter: Mr Sanjay Bhoosreddy interacting with Pyar Singh, Baghdari, Khargone
In village Chhapri, Jhabua, trained Murgi Sakhis gave a live demonstration of administration of the R2B vaccine on Kadaknath birds of Nakkubai Risu.
Field visits on both days culminated with a debriefing session with the respective District Collectors, CEO Zilla Panchayat/ Janpad Panchayat, and concerned officials of the department of Animal Husbandry and Veterinary Services, Madhya Pradesh. The Pashu Sakhi and Murgi Sakhi models were highly appreciated and recommended for replication at the district level by the JS. Several convergence measures for enhancing impact were also suggested, and officials of the implementing NGOs and AHD were asked to follow up on them.
Contributed by - SA PPLPP Coordination Team