Analyzing different approaches in the provision of primary health care services to the livestock in rain-fed areas
by ruchita —
last modified

Jan 22, 2014 08:24 PM
Sep 24, 2009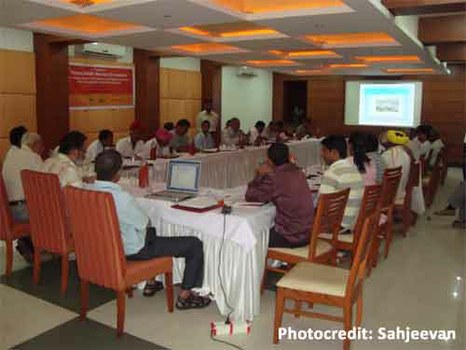 Workshop in progress
A workshop was held in Bhuj, from 2-3 September 2009 on the Delivery of Primary Health Care Services to the Livestock. Anchored by FES, the workshop was hosted by Sahjeevan, an NGO working towards nurturing and developing the natural resources to strengthen the livelihood security of poor people.
The objectives of the workshop were to-
1. Analyse the need for a differentiated approach in the provision of primary health care services in the context of rain-fed areas
2. Assess and bring out the inconsistencies / inadequacies in the provision of public health care services in terms of investments, coverage (geographical, species, and number)
3. Identify and profile various alternative experiences (of Animal health workers / vaccinators etc) in the provision of primary healthcare services.
4. Based on the synthesis of findings develop a framework for a robust system of provision of primary health care services for rain-fed areas.
It aimed to bring together experiences from different parts of the India as well as South Asia and learn from them the strengths and weaknesses of different health care delivery systems already in place.
Presentations were made by eminent persons on the following themes-
Primary health services and Large Ruminants-State specific issues,
Primary health services and Small Ruminants-State specific issues,
Livestock service delivery systems-South Asia and India,
Voices of the Livestock Keepers and their perspective on improving heath service delivery systems.
The speakers informed the gathering that provision of Animal health services comes under Government and different States deal with it in their own way suitable to their requirements. It was evident from various presentations that large ruminants got bulk of the attention at the cost of other livestock including small ruminants and Backyard poultry. Despite Animal Husbandry Department's efforts to reach out to the livestock keepers, ground reality is that most of the livestock keepers especially the poor do not have access to these services.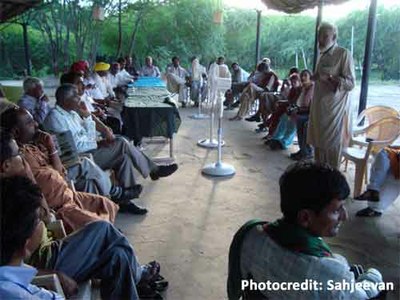 The experiences of various NGOs - Anthra, PRADAN, INGO - Danida, Programmes - SA PPLPP's good practices showed that the kind of services needed (First Aid, vaccinations, de-worming etc) by small farmers are easily provided by Animal Health Workers on user payment basis provided backward and forward linkages are put in place, for instance inputs like vaccines, medicines are supplied on time to them and they are supported by Veterinary doctor in cases beyond their domain. Moreover experiences from various States brought forth the need to streamline a delivery system that takes a holistic view of the animal health. It should focus not only curative and prophylactic (preventive) care but also include feeding and nutrition as part of animal health. Therefore, it was concluded that Animal Health Worker should provide a package of practices to be able to impact livelihood of the livestock farmers.
The experiences of the shepherds, buffalo and camel rearers brought forth their perception of health services where they were more concerned about the spurious drugs available in the market that could harm their animals when bought from open market through valid prescription. They wanted preventive vaccinations to be made available at the appropriate time so that infectious disease outbreaks and spread could be prevented, controlled and losses mitigated. They were willing to invest in Animal Health Workers since this community based worker could meet their requirements and they were also willing to pay for the services provided.
The deliberations concluded that need of the hour was disease surveillance-based decisions on the need / time / type of vaccination for a particular area for a period of time (number of years) and must be carried out regularly by the department or Animal Health Welfare under the supervision of the Animal Husbandry Department (AHD). Moreover it was also felt that sufficient budgets should be allocated for production of vaccines in the public sector or in collaboration with private sector and for establishing required infrastructure for maintaining the cold chain.
Contributed by - SA PPLPP Coordination Team