Farming Matters, March 2010 – Centre for Learning on Sustainable Agriculture (ILEIA)
by ruchita —
last modified

Jan 22, 2014 06:50 PM
Apr 19, 2010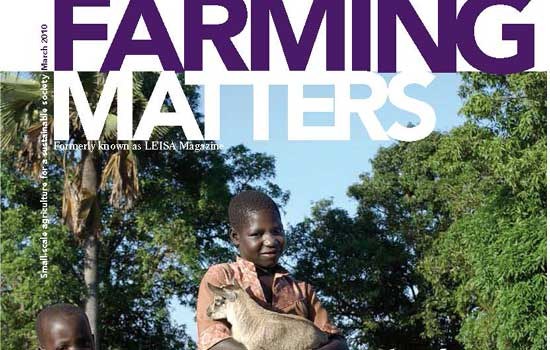 The Netherlands, April 2010 - The March 2010 issue of the magazine Farming Matters focuses on the benefits of livestock rearing, particularly for small and marginal farmers.  The theme of the current issue coincides with ILEIA's membership in the 2009-2010 Campaign on the International year of Family Farming.
With a focus on small holder livestock development, the articles address a variety of pertinent issues ranging from provision of livestock services, pastoralism as a viable livelihood occupation, the importance of small-holder livestock rearing, food as a universal right, fodder problems and the multiple roles of livestock in the livelihoods of small and marginal farmers.
Edith van Walsum, Director ILEIA, in her editorial affirms that family farming contributes to solving global issues like climate change and food security. Well managed small scale farming is low carbon agriculture. 
In an interview Olivier De Schutter, the United Nations special rapporteur on the right to food shares that there is a dire need to inform people at the highest political levels about the role that smallholders play in the world's food production systems. He hopes that this will make decision-makers more sensitive to their needs and rights. Oliver affirms that large agribusiness corporations exercise a disproportionate influence on governments, while small farmers are not involved in most policy development processes. 
Lucy Maarse, an independent advisor in livestock and livelihood in her article titled Livestock – a smart solution for food and farming, contends that animals are a part of farming systems throughout the world. An integrated perspective on the role of farm animals is crucial in overcoming simplistic assumptions on the opportunities and threats that livestock presents to family farmers.
The issue covers an interesting debate on private versus democratic provision of animal health services to the rural poor.
The article 'Unpacking the Poultry Myth' draws from the observations and learnings made in regard to indigenous poultry rearing practices in India, documented by the South Asia Pro-Poor Livestock Policy Programme. The article argues that indigenous poultry rearing gives a higher yield than commercial breeds and can significantly contribute to self-sufficiency, food and nutrition security and the cultural and biodiversity wealth of rural communities while also significantly contributing to their income.
One of the articles presents the findings of the fodder innovation project, implemented by UK Department for International Development (DFID), which reveals that strengthening interactions among the various stakeholders yields better results as compared to traditional efforts of improving quality and availability of fodder with a focus on technology. 
The articles are set in different countries across the globe and give a wider understanding of a variety of small livestock rearing cultures. This issue is available online at: http://ileia.leisa.info/index.php?url=magazine-details.tpl&p[readOnly]=0&p[_id]=241486
Contributed by - SA PPLPP Coordination Team