Med-Bandi Se Adhik Paidawar (Increased productivity including fodder for livestock as a result of field bunding )
by ruchita —
last modified

Jan 21, 2014 03:29 PM
Sep 01, 2009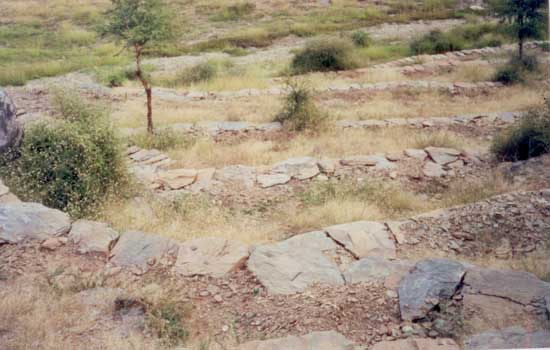 Devpura is a small hamlet of village Gokulpura, located in the Hindoli block of Bundi district in Rajasthan. Following interventions initiated by BAIF in partnership with the community, the village has witnessed positive developments. These include the regeneration of common lands resulting in increased fodder availability, tree plantation on both private and community lands, increased availability of farm-yard manure for crop cultivation and an improvement in the water level in village wells. Above all, these interventions have increased the confidence of the community, particularly women, who in spite of a strong purdah system, now speak confidently on issues concerning their welfare.
Sohan Meena, aged 37, was one of the village residents who both witnessed and participated in this change. He had inherited 10 bighas of land (approximately 4 acres) from his father and it was the only source of livelihood for his family of four. Over the years, the fertility of his land had greatly diminished, and Sohan Meena was keen to learn about measures that would improve the productivity of his land and thereby increase his agricultural income. He therefore attended all the community meetings convened by BAIF and actively participated in the pasture regeneration activities initiated by BAIF. A number of positive changes in the community pasture lands made him think of applying these practices on his own farm land.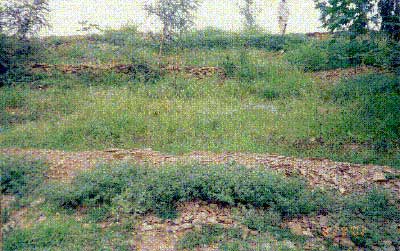 He recollects "I used to wonder as to how bunding and contouring, explained in the community meetings, was going to help me improve my land and farm produce. Instead I wondered why BAIF did not provide support for land leveling and deepening of my well to provide more water both for crop farming and for drinking water? "
Being aware of Sohan's doubts, BAIF field staff spent some time with him to convince him about the overall treatment needed in the area in order to prevent further water loss. Once Sohan was convinced, he decided to initiate land treatment on his field. The field staff apprised him of the fact that bunding helps in retaining moisture and the fertile topsoil, which otherwise is washed away due to the undulating nature of his land and the absence of vegetation. Sohan could recollect how the jowar (sorghum) production during the kharif season was never up to his expectations and that he had left his land fallow many a times.
Following the technical advice by BAIF field staff, Sohan commenced bunding activities around 3.2 acres of his land, including the construction of outlets as per the land development plan prepared in consultation with BAIF staff.
The activities in the village on both private and community lands proved complimentary to each other. As a result of the measures undertaken, there is increased soil moisture and fertile silt is now not washed away. Sohan cultivated wheat for the first time on his land earning an income of Rs. 27,040/- from the sale of grains and fodder from his crops.
Earlier, agriculture was the only source of livelihood for Sohan. He did not rear any livestock on account of lack of fodder. However, due to the increased availability of fodder, Sohan now rears five buffaloes of the local Marwadi breed and a herd of 15 goats for milk and meat purposes. Sohan's family earns an income ranging from Rs 20,000-25,000 from the goats every year and Rs 150/- per day from the sale of milk.
Sohan is happy and is proud to narrate his experience to the villagers.
Khet ko garo bahar na jave. (soil from the field is not washed away)
Khad apakhet me dale wo bahar na jave. (Manure put in the fields is not washed away)
Khet ko pani khet me rahe jave. (rainwater is not washed away and remains in the field)
Alo bano rahe tobeejwari badhe. (Increased soil moisture promotes better seeding and crop growth)
Paile jwar hove ab gehu hon lag giyo. (Jowar was the only crop grown earlier, but now I also grow wheat)
Sohan's work proved to be a model for other villagers. His increased confidence motivated others in his community to take up field bunding.

Contributed by – BAIF and SA PPLPP Coordination Team