Oats - A Source of Fodder supporting Livelihoods of Mountain Communities
by ruchita —
last modified

Jan 21, 2014 03:26 PM
Oct 22, 2009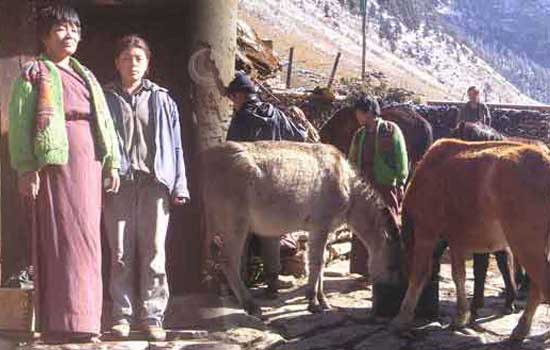 Soeyaksa is a three day walk away from the road towards North Bhutan. One has to cross more than 8 bridges to reach the village. Soeyaksa originates at a glacier which is the source of the Paro River. On account of its remoteness, the community is solely dependent upon livestock and livestock products for their livelihoods. All other food items are transported on horse-back from Paro, the nearest town. Soeyaksa's remoteness and the lack of adequate service and infrastructure has resulted in minimal development. Located at a height of 3,900 meters above sea level, Soeyaksa has a total of 19 households. 
Ms.Am Kasang Wangmo is one of the residents of Soeyaksa, who lives with her six children.
In 2000, she owned around 80 yaks, of which about 40 were in-milk. She had a difficult time managing her large herd particularly during the winter when acute fodder shortage resulted in high mortality. Collection of grass from the surrounding forests was a major constraint due to the lack of adult manpower.
In 2001, Am Kasang was selected by the Department of Livestock Services as one of the pilot farmers' for testing of oats as a fodder crop including a comparative assessment with wheat. To build the community knowledge base on oats, the livestock department organized field visits for yak herders to various oats growing sites. Thereafter, oats seeds were distributed by the Department to farmers interested in cultivating oats.
In 2002, Am Kasang Wangmo cultivated oats in 660 square metres (0.1 acres) using the seeds distributed by the Dzongkhag Livestock office. Based on successful results, she expanded the area under oats cultivation to 2,000 square meters (0.5 acres) in 2004 with due support from the Livestock office. She also initiated the planting of live fencing in order to sustain the barbed wire fencing around her oats plot
The cultivation of oats led to an increase in biomass yield from 23,000 MT to 45,000 MT per acre. Am Kasang and her two daughters also attended a fodder management training programme conducted by the Livestock sector office and now have a good knowledge of making good quality hay out of oats. Since oats are grown close to her house, Am Kasang saves both time and energy in collecting grass from the forests. She now uses her free time for other income earning opportunities like collecting and selling of cordyceps1, producing incense for sale and hiring out of horses to tourists and government officials.
The increased availability of fodder, particularly during the harsh winter months, has led to a reduction in mortality in her yak herd from 10 to 3 per year. Earlier most of the weak animals and calves died due to starvation during the cold winter months when the area was covered with snow. Am Kasang's herd size has increased from 80 to 120 in the current year (2009). She credits the Department's Fodder development programme for this positive change.
Among other benefits is the increase in the lactation period and availability of milk in winter. The feeding of oats hay has increased the lactation period by a month providing Am Kasang's family valuable milk for tea in the harsh winter.
Reference:
1. Cordyceps Sinensis locally called Yartsa Guenbub in Bhutan is a fungus growing out of the caterpillar of ghost moths (Thitarodes spp.) The mature fruit body of cordyceps consists of a cylindrical brown structure growing out of the caterpillar that lives in the ground among plant roots in mountain pastures. Bhutan exports Cordyceps to Hong Kong and other South-east Asian countries. The cost of 1kg of Cordyceps, comprising 7000-8000 pieces, ranges from Rs.100,000 to Rs.300,000/-. Also known as medicinal mushroom, Cordyceps finds a wide application in traditional Chinese medicine.

Contributed by – Department of Livestock Services, Bhutan