Willow silage: a source of nutritious winter fodder
by ruchita —
last modified

Jan 21, 2014 03:20 PM
May 04, 2010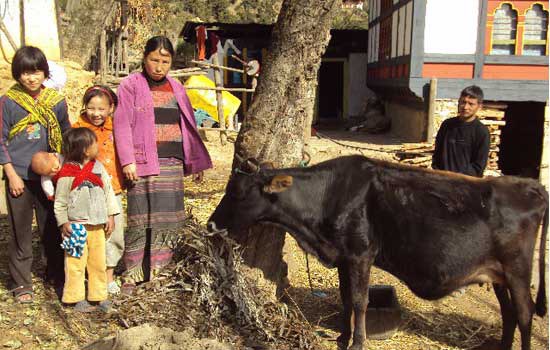 Mrs Chimi Wangmo, lives in Zamtok village, 40 km away from Thimpu, with her parents, husband and three school going children. Chimi's husband is a farmer and supplements income from the farm through carpentry work during the lean season. Chimi owns 11 heads of jersey cross bred cattle comprising four bullocks, two bull calves, two cows and three heifers. Zamtok village is surrounded by mountains with good forest cover. The village is situated at a height of 2800 meters above sea level and has a total of 12 households. The village has access to a motorable road, electricity and telephone facility. Major crops grown in the village include cereals such as barley and oats, and vegetables like potatoes and peas.
Chimi owns five acres of land, of which four acres is cultivated with wheat, potato and peas. The remaining land is used to cultivate fodder. Prior to 2006, the fodder grown on this one acre of land was the only source of nutrition for her cattle. During the winter season Chimi depended upon wheat straw, oats and oak leaves collected from the nearby forests. During times of fodder shortage, she often grazed her livestock in the surrounding forests.
A willow leaves ensile experiment was conducted by the Dzongkhag (District) Livestock Office in 2006 in Zamtok village. Since Chimi owned a relatively larger number of willow (Salix Babylonica) trees compared to other households in the village, her site was selected for the trial experiment. Technical staff of the Dzongkhag Livestock Office supported and monitored the willow silage making process for two consecutive years.
The success achieved by this experiment motivated Chimi to continue the practice of making willow silage on her own after the technical support from the local livestock office ended. Chimi is now competent and has started making willow silage without any technical support since 2008. The willow leaves silage is a good source of winter fodder besides oat and barley stover. It eases the burden of winter fodder shortage, and considerably reduces the need to send livestock to the forest for grazing. The use of willow silage contributes to stall feeding and increasing the milk yield of livestock.
Chimi does not now collect oak tree leaves from the forest. She has planted a few more willow trees around her house so that they will be ready for lopping and silage making within the next few years. Characterized for their vigorous growth and adaptability to a range of soil and weather conditions in the temperate zone of Thimpu valley, willow trees can be lopped at regular intervals to make silage.
Chimi has bought two more jersey cows increasing the size of her cattle herd to thirteen. She has also built a new cattle shed to provide better and more secure housing for her livestock. Willow silage has helped her meet the feed requirements of her livestock during the fodder scarce winter months.
Following the successful demonstration of willow silage on Chimi's land and the technical support provided, the practice has been replicated by an additional 230 farmers across six villages in 2009.

Contributed by - Karna Bahadhur Ghalley and Department of Livestock Services, Bhutan