Employment as a village facilitator provides a stable source of income for Dayaram in Bastar district of Chhattisgarh
by ruchita —
last modified

Jan 30, 2014 04:48 PM
Feb 18, 2011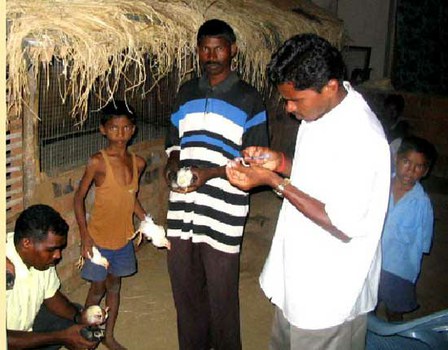 Of the 111 villages in the Bastar block of Bastar district in Chhattisgarh, Bahul Lamker, a tribal village is located 8 kms from the district centre. The village is inhabited by the Muria, Gond, Kalar and Sundi tribal communities.
Dayaram Deevan, aged 40, a resident of this village belongs to the Kalar community. He lives with his mother, wife Muni and three school going children. Dayaram and each of his three brothers inherited less than an acre of land from their father. The land being primarily rain-fed, yields only a single crop of rice each year. This is insufficient for household consumption, and is supplemented with grain purchased from the market. Desi poultry and goats reared by Dayaram supplement family income, in addition to two bullocks used for ploughing and hiring out when required.
Having successfully completed his secondary school education, Dayaram always aspired for an employment opportunity to ensure a regular source of income. He often worked as an agricultural or construction labourer in neighbouring villages for Rs 25-30 per day. He had also actively participated as a group leader in the watershed development programme implemented in three villages including his own in 1995.
The Bastar Integrated Livestock Development Programme commenced work in Dayaram's village in 2000. The programme focused on the provision of livestock health services to minimize the mortality rate among backyard poultry and small ruminants.
Dayaram's keen interest in various village development activities led to his nomination by the village Sarpanch (Panchayat President) as a village facilitator for the programme, along with two other villagers. The primary responsibilities of the village facilitator included conducting a livestock census by registering the number of livestock reared by each household, participating in animal health and vaccination camps organized by the Animal Husbandry department and providing animal health services within their villages. All three candidates were provided training on various aspects of agriculture and livestock rearing. This included horticulture and agricultural practices, livestock rearing and management, as also an intensive two months training programme on artificial insemination. Refresher training was organized every six months. Within a year, the other two facilitators discontinued their practice while Dayaram continued, overcoming the many challenges that came his way, which included difficult terrain, non-cooperation by villagers who feared that vaccination would harm their livestock, and low income earned.
Today Dayaram provides health and vaccination services in seven villages, including his own, and earns a monthly income ranging from Rs 3000-3500. Generally Dayaram visits one village each day unless he receives an emergency call from a particular village. For a few villages, he schedules his visit based on the day of the local haat (village market). This provides him an opportunity to meet most of the villagers, as also for him to purchase household goods. To obtain vaccination orders, Dayaram visits all households in the village.
Earlier it was difficult to convince the villagers about the need to vaccinate livestock, particularly poultry, however now the situation has changed. People tend to maintain vaccination schedules for their birds and small ruminants and contact me on the required days, informs Dayaram. He charges 50 paise for vaccinating a poultry bird and Rs 5 for vaccinating a goat or a cow. The vaccinations and de-wormers are collected free of cost, from the District Veterinary Hospital in Bastar. Dayaram informs that poultry birds are vaccinated against Newcastle (Ranikhet) disease and Fowl pox; Peste des Petits Ruminants (PPR), Haemorrhagic Septicemia (HS) and Enterotoxemia (ET) is administered to small ruminants and Haemorrhagic Septicemia (HS), Black Quarter (BQ) and Foot and Mouth Disease (FMD)1 are the common vaccinations given to cattle. Dayaram follows the vaccination schedule prescribed by the veterinary hospital according to which vaccination of small ruminants is undertaken once every six months while poultry birds are vaccinated on a quarterly basis. Dayaram reports to the veterinary hospital soon after the vaccinations and dewormers are administered to livestock in a particular village. Dayaram ensures that vaccinations procured from the hospital are administered on the same day and therefore he organizes the villagers to gather at a common point in the village to facilitate the process.
In addition to vaccination and deworming, Dayaram provides first aid to livestock. He purchases medicines, worth approximately Rs 2500-3000, from a chemist in the Jagdalpur town, 25-30 kms from his village. These medicines last him for a month or two depending upon the occurrence of diseases in livestock.
According to Dayaram, the monsoon season has the highest levels of disease prevalence. He charges an extra amount of Rs 25-35 on medicine sold to the villagers, which includes his service fee as also the fuel cost to and from Jagdalpur.
For cases that Dayaram cannot treat, he informs doctors at the veterinary hospital who according to him respond positively and visit the specific location within 24 hours.
He shared that ever since he was appointed as a village facilitator he was keen on learning more about health care issues of livestock. "I frequently visit the veterinary hospital as this not only helps me to forge links with the doctors there, but is personally rewarding as I always learn some new concepts while watching the doctors treat the livestock. I feel proud of this profession". Despite the challenges faced in the initial years, Dayaram feels motivated. His work as a village facilitator provides a critical link between the community and the district veterinary hospital, and ensures that preventive health care, by way of regular vaccinations and deworming is available at the `door-step' of the community.
Dayaram's elder daughter wants to follow in her father's foot-steps and serve the village livestock.
Dayaram narrates an incident from 2009, when in spite of vaccinating the goats in Lamker village against Enterotoxemia (ET), they continued to suffer from high fever and diarrhoea and he had to seek the support of the veterinary doctor from the district hospital. Except for one or two goats all the rest could be saved, informs Dayaram proudly. On conclusion of the Bastar Integrated Livestock Development Programme in 2006, refresher trainings have not been organized, and this according to Dayaram has been a major constraint in learning new techniques and up-dating his knowledge base. For him, the greatest challenge is to specialize in artificial insemination. In spite of the two month long training provided on AI, I am far from being proficient in this task, claims Dayaram. In 2004, he received the best village facilitator award in the Bastar block from the project.
References:
1 Ranikhet disease also known as Newcastle disease occurs in domestic fowl and other birds and is caused by a paramyxovirus of the genus Rubulavirus. The disease affects the respiratory and nervous systems of birds leading to respiratory difficulty, tremors and twitching of the head.
Fowl pox is a slow-spreading disease of fowl and turkeys caused by the avian poxvirus and characterized by pox lesions on the skin of the head, and on the neck in turkeys. It is transmitted by mosquitoes or through contact.
Peste des Petits Ruminants (PPR) also known as goat plague, is caused by a virus closely related to the rinderpest virus, canine distemper virus, and the human measles virus. Morbidity up to 100 % and mortality rates between 20 and 90 % are common, except in endemic areas or when mild disease occurs.
Haemorrhagic Septicemia (HS) is a highly fatal bacterial disease found mainly in cattle and water buffalo. In susceptible animals, the clinical signs often progress rapidly from dullness and fever to death within hours.
Enterotoxemia (ET) also known as overeating or pulpy kidney disease is a condition caused by the absorption of a large amount of toxins from the intestines. The toxins cause enterocolitis (inflammation of the intestine), increase the permeability of the blood vessels, and become absorbed in the blood. They circulate in the bloodstream, promoting swelling in the lungs and kidneys, giving the condition the name pulpy kidney disease. Young animals are most susceptible. Sudden and high mortality rates are concentrated in lambs and kids.
Black Quarter (BQ) is an infectious and highly fatal bacterial disease of cattle. Buffaloes, sheep and goats are also affected. Young cattle between 6-24 months of age, in good body condition are mostly affected. It is a soil-borne infection which generally occurs during the rainy season.
Foot and Mouth Disease (FMD) is a highly communicable disease affecting both large and small ruminants and is characterized by fever, formation of vesicles and blisters in the mouth, udders, and teats and on the skin between the toes and above the hooves.
Contributed by - SA PPLPP Coordination team with inputs from Dr. Prakash Shinde, Veterinary Assistant Surgeon, Directorate of Veterinary Services, Government of Chhattisgarh and Sh. Dayaram Deevan, Village Facilitator, Village Lamker, Bastar District, Chhattisgarh (2011)