Saleha - An Ideal Poultry Worker
by ruchita —
last modified

Jan 30, 2014 05:24 PM
Aug 11, 2008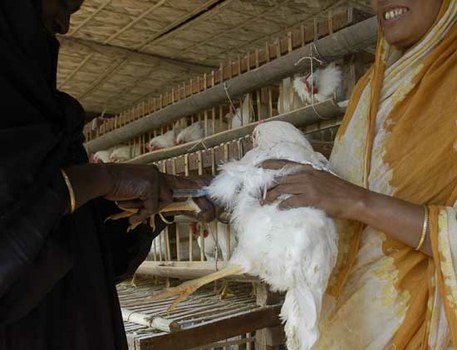 Saleha left her husband's house because she was not getting along with her mother-in-law on the issue of dowry. She was often beaten up by her husband. When these atrocities became unbearable, she decided to move back to her mother's house. Saleha has two daughters who are six and four years of age, and a toddler son. Her maternal house is in Balirtek village of Manikganj district in Bangladesh. It is at a distance of 10 km from the nearest town. Her husband does not support her in any way and she has to earn a living to run her house.
For a poor illiterate woman there are not very many employment opportunities. She was fortunate that BRAC came to her rescue and engaged her as a member of the Village organization (VO) at Balirtek. Saleha worked hard and was rewarded for her dedication by being promoted as a Poultry Worker (PW). Out of the 15 VOs in the village, Saleha was the one who got the promotion. Saleha underwent a training program run by the technical staff of BRAC. She was trained to vaccinate and administer deworming medicines to backyard poultry. She was also taught to advise villagers on how to increase their income through poultry keeping. She was very sincere and managed to earn Taka 500 from her vaccinator's job. She also supplemented her income through rearing 15 chicken and selling about 10 eggs a day.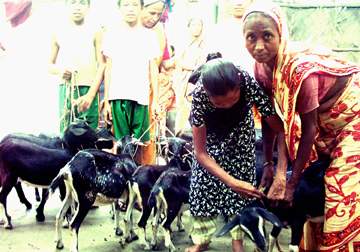 One day when she was out on duty, vaccinating poultry birds in her village, she was informed that birds vaccinated by her were dying. The poultry owners were very angry with her. Moreover the Government Veterinary Field Assistant (VFA) was not happy with the situation and informed higher Government authorities. Saleha was scared as everybody was blaming her. She thought it best to report the incident to BRAC's veterinary staff. On investigation it was discovered that the vaccine supplied by the Government department in Manikganj district was adulterated by Organo phosphorous which is poisonous and that led to the birds dying.
BRAC came forward and organized an orientation meeting attended by VO members and other poultry owners in support of Saleha. As a good will gesture BRAC agreed to pay some compensation to the villagers who had lost their birds. It also arranged quality vaccines from the central laboratory for all Poultry Workers of the Balirtek Area Office. Thereafter no such incidents were reported in the area. Today Saleha is considered a poultry doctor and respected by the villagers.

Contributed by – BRAC, Bangladesh (2008)