Satpuda-Desi poultry rearing – a viable self-employment opportunity
by ruchita —
last modified

Jan 30, 2014 04:44 PM
Sep 19, 2008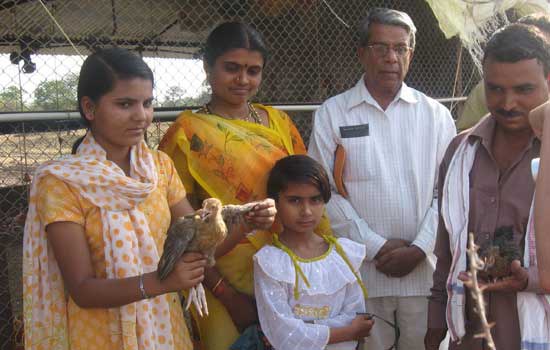 Shivaji Ramkrushna Chinchole, aged 31 yrs, lives in the Malgani village of Buldhana district in the, Vidarbha region of Maharashtra. The region is facing serious problems of farmers committing suicide due to crop failure as well as inability to secure a reasonable market price for their produce.
Shivaji's father owns three acres of non irrigated land which is not enough to sustain a family of 6. Therefore, Shivaji was desperate to find suitable employment to supplement the family income. However, though educated, he was unable to find a job. He then decided to start a business that was related to agriculture. He managed to raise a capital of Rs. 15,000 by selling his family's gold jewelry.
He decided to start broiler farming. He constructed a temporary shed of 10 feet x 20 feet by using bamboo and other available material in his house. Only wire mesh and plastic sheets to cover the roof were purchased from the market at a cost of Rs. 3,000. He obtained information regarding management and vaccination from the local veterinary extension officer. He ordered 200 chicks from the local dealer.
He faced heavy mortality (20 %) in the flock due to the low disease resistance of broiler birds. In addition, at the time of sale, the price of ready birds fell drastically, resulting in a loss of Rs. 1800 with his first batch of broiler birds
He was frustrated as there was no one to support him to continue the business. He compared rates of desi and broiler birds and decided to raise birds similar to the desi, which would allow him to sell these birds locally at a good price. He visited the Agriculture University in Akola 70 kms away from his village, where he saw multi-coloured birds in the poultry science department shed. On enquiring, he was informed that these were birds developed by Yashwant Agritech Pvt. Ltd. Jalgaon and were being reared for a nutrition trial experiment by post graduate students. He obtained the address and contact numbers of the concerned person at the company who advised him to visit Jalgaon and provided him information regarding management, vaccination and marketing of these birds.
After seeing flocks of different age groups Shivaji was confident about the bird's acceptance in the local market. He placed an order for 250 chicks which was supplied by the company at his doorstep. He fed the birds with commercial feed which was available from a feed dealer 14 Kms from his poultry farm. Shivaji was in continuous communication with the company's veterinary consultant Dr. Patil and followed his instructions regarding vaccination. His wife Latabai supported him in rearing the birds.
Ranikhet (Newcastle) disease vaccine was brought in a thermos flask from Akola and the birds were vaccinated immediately. In his view, the birds are sturdy and grow to an average weight of 980 gms in 62 days. The production cost was Rs. 47/kg out of 255 (250 + 2% extra chicks) chicks supplied and mortality was 3.5%. He made a profit of Rs. 4,300 in 70 days with an investment of Rs. 11,000 only. He used the profit to construct another shed and increased his production capacity.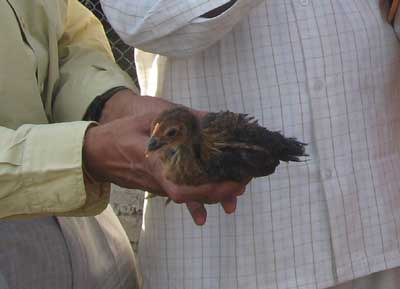 Mr. Suryawanshi, from the company, advised him to sell pullets to interested backyard poultry keepers. Shivaji's wife visited nearby villages and shared the advantages of rearing improved desi birds for more egg production. She received orders from village women for 10 to 30 female birds. After proper vaccination Shivaji and his wife supplied birds to these fe/male farmers.
Within one year of starting poultry rearing, he was appointed as the dealer for Satpuda-Desi chicks in Buldhana, District Akola, by the company and at the same time 37 units of 200-500 birds were established in the area. Today the capacity of his farm is 2,500 birds per month. He is selling 10,000 to 12,000 chicks per month to other units. Chicks are delivered to his doorstep by the company's delivery vehicle.Shivaji's enterprise and efforts were recognized locally and many youth approached him for guidance. He encouraged them to start Satpuda desi bird rearing. He feels that a cluster development approach will improve gains instead of competition within poultry keepers as it will be easier for suppliers as well as traders.
Other small farmers are in communication with him regarding selling rates. He guides them regarding marketing of birds. Traders from nearby towns contact him regarding the availability of birds. He provides the contact number and address of the farmer closest to the trader. Accordingly, this cycle of supply of day old chicks to selling ready birds is repeated.
Within 4 years Shivaji has constructed a concrete house for himself and his brother. He wants to educate his 2 daughters.
He proudly advocates that this activity not only provided self employment to him but also gave him immense satisfaction as replication of the activity provided a source of livelihood to many youth, especially in a region where the government is making every effort to stop suicides by farmers. He is now a respected person in the area and people call him SHIVAJIRAO. His father is proud of him. Day to day activities in the farm are managed by his wife and he utilizes his time to guide farmers. Every year they arrange a get-together of all poultry farmers which is attended by the company's poultry consultant and marketing expert. Farmer's problems and experiences are shared and guidance for growth is given in such meetings.

Contributed by – SA PPLPP Coordination Team (2008)