Goat rearing is much more than just an additional source of income, observes Sebati Digal, Self Help Group paravet, Jargi village, District Kandhamal, Odisha
by ruchita —
last modified

May 29, 2015 11:42 AM
May 29, 2015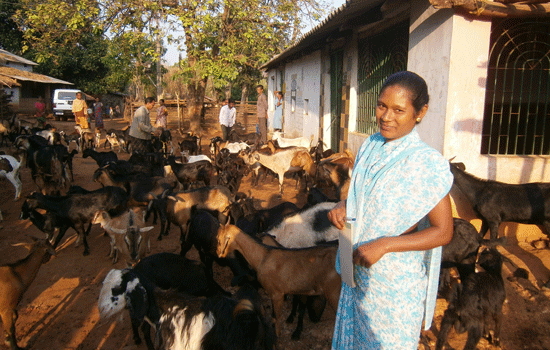 Sebati Digal, is a resident of Jargi village in the Sudra gram panchayat. She stays in a joint family comprising her father-in-law, husband Ramesh Digal, and three children studying in classes IX, VII and VI. The family owns 1.65 acres of land. Paddy is the only crop grown which is barely sufficient to meet household needs. Sebati's husband works as a wage labourer to support the family. Goat rearing, initiated by Sebati, contributes to household income. Sebati presently owns 24 goats comprising 14 does, six kids, three castrated bucks and one improved Beetal buck.
Last month Sebati didi, as she is referred to in the village, sold three goats for Rs 12,500 and six kids for Rs 7,200. "I maintain 20–25 goats at a time and based on the health and appearance, sell 2-3 goats every year", shared Sebati. She continues, "The main criteria for judging market readiness of the goats is weight gain in six months. If, in spite of deworming and feeding of bokashi (a kid is fed 30–40 mg of this multi-nutrient supplement each day) the weight of bucks remains less than 4 kg, these are considered unviable for further reproduction, and are castrated. Does are reared and bred until they are 3–4 years old, after which they are generally sold. A good quality goat gains approximately 7–8 kg of weight within 6 months".
Sebati informed that while the kid of a cross between the local goat and the Ganjam buck shows good initial growth, the kid from a cross of a local goat and Beetal buck has a problem of standing in the initial days after its birth. It, however, gains very good weight later on. Castrated bucks are sold at the age of 1 ½ –2 years for Rs 5,000 by which time they gain approximately 30 kgs of weight.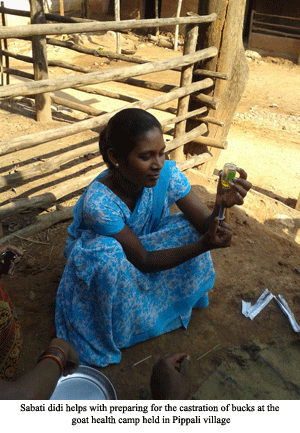 Sebati has also been rearing desi poultry birds for the past 7–8 months. "I started with five poultry birds and now have a flock of 40 birds, 4–5 of these have been gifted to me by goat rearing households in lieu of the services provided to them over the past year", informed Sebati.
The time interval between each clutch is 2–3 months and almost 10–12 eggs are laid per clutch. These eggs are largely consumed within the home. "Indeed my poultry unit started initially from the birds that were given to me by goat rearing households towards the services I had provided to their goats", shared Sebati.
Sebati joined the Ashadeep Self Help Group in 2008, and received her first SHG training in 2009 - a one-day practical training on goat rearing. She was subsequently selected by members of her SHG to attend the paravet training programme in the same year and subsequent refresher training every month. Since her nomination as the SHG group paravet, Sebati has been regularly providing vaccination and deworming services, and carrying out castrations of unviable bucks in her village. She is able to earn Rs 800–1,000 every month through her services as a paravet. She has a good reputation in neighbouring villages too, where she has been to impart training to newly inducted goat rearers and group paravets.
"I prepare bokashi (multi-nutrient supplement) at home for my own goats and it costs me Rs 18 per kg". Sebati also maintains the health records of goat rearing households in her village. This includes individual health cards issued to goat rearers in addition to a register which she maintains and presents during SHG meetings.
Sebati is completely dedicated to the promotion of goat rearing and ensuring the health of goats raised in the area, and promptly visits neighbouring villages to support her fellow paravets during goat health camps organized by them.
Sebati is also an active member of the board of the Unnatipath Federation. "My family provides all support to enable me to participate in these community institutions. My husband takes care of household chores while I go out for training for 1–2 days. He also helps with maintaining the goats and the goat shed as I am engaged with various group meetings and training programmes. The response and respect I receive from villagers is very encouraging and I try to persuade as many women from other villages too to take up goat rearing. Goat rearing has not only been an additional source of income for most families here but has also created a strong bond among women members in the SHG", says the smiling Sebati while she is busy taking notes from the goat rearing expert during the health camp at Pippali village.