Herbal medicines not only cure but also build resistance against disease, says Jayaraman, a livestock healer in Village Vandipalayam, District Villupuram, Tamil Nadu
by ruchita —
last modified

Dec 28, 2015 12:42 PM
Dec 28, 2015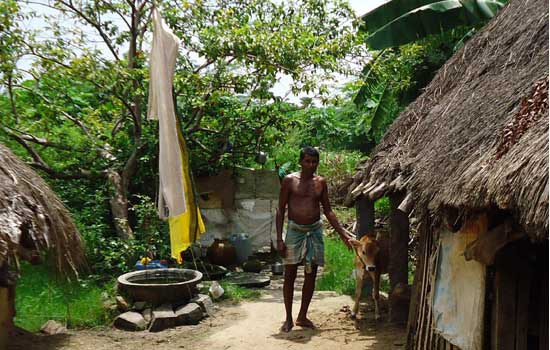 Jayaraman with his calf. His herbal garden can be seen in the background
Jayaraman, aged 67 is a resident of the Vandipalayam village in the Marakkanam Block of Villupuram District. His family comprises his wife Veeramma and four children, two sons and two daughters all of whom are married. His sons work as daily wage labourers in and around the village to support the family. They own three acres of land on which millet, paddy and groundnut are sown. Until recently, Jayaraman owned four bulls and five cows which provided seven litres of milk every day. Of these, four cows and four bulls were sold to raise money for his daughter's wedding, and currently the family owns one cow and four calves. The cow gives two and half litres of milk which is just enough for home consumption.
Jayaraman informed that earlier farming was the primary source of income for the family. This was often supplemented with wage labour.
Jayaraman has been a livestock healer for more than 45 years. He learned about livestock healing from a paternal uncle, who was a local healer. There are no charges for these services. Depending on the results of the services, villagers pay the local healers a small amount as a token of thanks. "I never ask for money for the services provided to the households for their livestock. People tend to pay us in cash or kind (a small portion of agricultural produce) depending upon the services availed".
Villagers generally bring their livestock to Jayaraman's home for treatment, and he rarely visits individual households.
Jayaraman keeps in touch with veterinary doctors at the nearby animal husbandry centre located at a distance of thirteen kilometers from his village. "At times I receive a call from these doctors requesting information on the well being of village livestock. I also contact them for guidance. At times I prescribe allopathic medicine to the livestock rearers after consulting the veterinary doctors, however I am convinced that herbal medicines are the best as they also help in building resistance unlike allopathic medicines", shared Jayaraman.
He mentioned that a common disease found in cows and goats in his village is swelling of their mouths and stomachs in addition to nervous system related problems. It is learnt that shrimp farming is practiced in and around the Kaluveli backwaters surrounding the Vandipalayam village and this contaminated water seeps into village ponds from where livestock drink water. Herbs like Easwaramooli (Aristolochia indica) and Thumbai (Leucas aspera) are used to cure this swelling. In addition diarrhoea in goats and cold and cough among sheep are some other common diseases for which herbal medicine is administered. 'A common treatment for cold is dry ginger powder mixed with palakkad tobacco, and diarrhoea can be effectively treated by either giving butter milk with dry ginger powder or by giving a ground mixture of bamboo leaves, cumin seeds, nirgundi (Vitex negundo1) and drinking soda', shared Jayaraman.
My sons do feel proud of the services I provide to village livestock. However none of them is willing to take up this practice since there is very little or no remuneration involved.
He has attended a few animal camps organized by SEVA2, an NGO based in Madurai. 'I was introduced to the concept of preventive medicine at these animal health camps and learnt about preparing masala bolus3 through these training programmes', shared Jayaraman. He does not prepare masala bolus himself but uses the ingredients like leaves and various condiments in their natural form for administering to livestock. "I keep an eye on various medicinal plant species and keep collecting them while moving in and around the village. Invariably I tend to use these herbs while attending to any calls from livestock rearers", admits Jayaraman.
Four months ago Jayaraman fractured his back bone during an accident of his bullock cart. This has restricted his movement and hence the services to the livestock which require physical labour, for example those involving delivery of calves are not taken up by him anymore.
'I also maintain a small herbal garden within my homestead area and use these plants to cure diseases in livestock. Villagers bring their animals to me for diagnosis since I do not move around much these days', said Jayaraman.
References:
1. Vitex negundo, commonly known as the five-leaved chaste tree, is a large aromatic shrub. It is widely used in traditional medicine, particularly in South and Southeast Asia.
2. SEVA has been documenting ethno-veterinary practices over the last 20 years. They have also been conducting training programmes and animal health camps for the past 10 years.
3. The masala bolus are made in the size of a big amla (Indian Gooseberry) fruit, and include the following ingredients:
Kandankathri (Solanum surattense), Thumbai (Leucas aspera), Kuppaimeni (Acalypha indica), Veeli leaves (Cadaba farinosa), Peruthumbai (Leucas martinicensis), Usilai (Albizia amara), Thulasi (Ocimum tenuiflorum), Avarampoo (Cassia auriculata), Moongil (Bambusa arundinacia), Puliampirandai (Vitis setosa), Thuthi (Abutilon indicum), Musumusukkai (Mukia maderaspatana), Kolunchi (Tephrosia purpurea), Manjanathi (Marinda tinctoria), Veliparuthi (Pergularia daemia), Nilavembu (Andrographis paniculata), Virali (Dodonaea viscosa)and Mavilangam (Crateva adansonii). (50 grams each of the above materials are taken, shade dried, pounded well and stored).
In addition, Thippili (Piper longum), Seeragam (Cuminum cyminum), Sombu (Foeniculum vulgare), Perungayam (Ferula asafoetida), Valmilagu (Piper cubeba), Sukku (Zingiber officinale – dried), Pepper (Piper nigrum), Chillis (capsicum annuum), Kasakasa (Papaver somniferum), Lavangam (Cinnamomum zeylanicum), Fenugreek (Trigonella foenumgraecum), Omam (Trachyspermum ammi), Seeds of coriander ( Coriandrum sativum) (10 grams each and pounded well).
Banana (Musa paradisica) one flower, unripe Kaleathi fruits (Ficus tinctoria), Guava bark ( Psidium guajava), Sotru katralai (Aloe vera), Garlic ( Allium sativum) and Kollankovaikilangu (Corollacarpus epigaeus) 100 grams each, Pirandai (Cissus quadrangularis) 500 grams, Onion ( Allium cepa) 250 grams, Coconut ( Cocos nucifera) one, are also used.
The above ingredients are ground, mixed well, and made into bolus and dusted with turmeric powder. The shelf life of these masala bolus is three days, without refrigeration.
Contributed by - SA PPLPP Coordination Team