Surti
by ruchita —
last modified

Jun 30, 2014 01:43 PM
Feb 21, 2013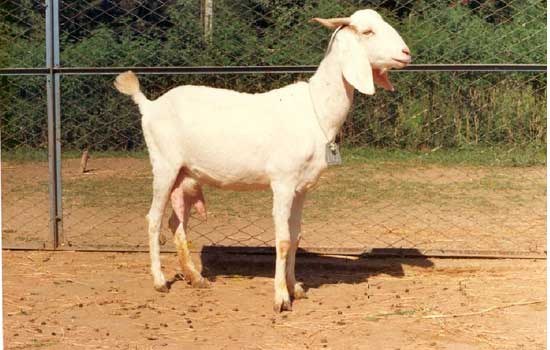 The Surti breed is traditionally found in the Surat and Vadodara districts of South Gujarat.
According to the 18th Livestock Census 2007, the number of Surti goats in the country is 674,016. The Surti is a medium sized breed, white in colour with a highly developed udder. Ears are medium in size. Both sexes have small horns directed backwards. The breed is known to be a good dairy breed and yields on an average 2 kg of milk per day. 
The age at first kidding varies from 400-500 days.  
| | Adult Male     | Adult Female |
| --- | --- | --- |
| Average Body weight (kg) | 25 to 30  | 22 to 25  |
| Average Body length (cm) | 65  | 67  |
| Average Height at withers (cm)    | 74  | 69 to 71  |
| Average Chest girth (cm) | 71  | 71 to 73  |
Photo Source:http://www.goatindia.com/surti and CSWRI, Avikanagar
Text Source: http://agtr.ilri.cgiar.org/index.php?option=com_content&view=article&id=215&Itemid=250